The Best, Most Diverse Play on Broadway Just Got Denied a Tony Nomination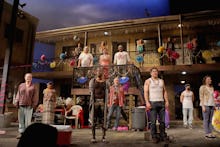 With every set of entertainment award nominations come the cries of snubs. Most recently, Selma's near-total shutout from the Oscar nominations and the overall whiteness of the nominees caused a national conversation about representation in film.
Tuesday's Tony nominees will likely cause no such conversation; such is the nature of awards with fairly limited scope. But one egregious snub should resonate: Lisa D'Amour's Airline Highway was denied a best play nomination. The show about a vibrant New Orleans community living at a rundown motel probably opened too late, felt too small and couldn't overcome a bad title.
Yet those who study theater ten years from now will likely be shocked to learn Airline Highway didn't even get nominated. It is the next great American play, and an incredibly diverse one at that. It is exactly the kind of theater Broadway should be championing.
Airline Highway's plot centers on the planning and execution of a living funeral for Miss Ruby (Judith Roberts), the matriarch of the Hummingbird Motel. Led by Tanya (best featured actress nominee Julie White), an elderly hooker and recovering-drug addict, the denizens of the community come together to celebrate Ruby's life while she's on her death bed.
Former tenant Greg (Stephen Louis Grush) comes back for the funeral, with his girlfriend's daughter Zoe (Carolyn Braver) in tow. Zoe is working on a sociology class project about the Hummingbird Motel as a subculture, and acts as the audience surrogate with fresh eyes on this world.
The living funeral plot is really just a reason to get these hugely disparate characters together. From community elders like Terry (Tim Edward Rhoze) to the homeless and wandering topless bar waitress Krista (Caroline Neff), this is a show about how people from wildly different backgrounds who have found themselves in the same situation. It's a unique slice-of-life story that works as a greater examination of America. These people have spirit flowing out of every pore, even when they're down-and-out. It is a truly American story.
D'Amour's complex script, which facilitates the multiple conversations that happen on stage at once, also handles questions of appropriation well. When Zoe tells members of the community she wants to tell their story, a soulful drag queen named Sissy Na Na (best featured actor nominee K. Todd Freeman, absolutely the best part of the show) bites back. It's not her story to tell, he says. When she does eventually tell her story, it's a bit too sentimental and self-centered — twee in a way these people's internal darkness absolutely isn't. The payoff works for a topic other shows might never have gone near.
The Tony nominees for best play are overwhelmingly white: Hand to God, Wolf Hall Parts One & Two and The Curious Incident of the Dog in the Night-Time all feature predominantly-to-entirely white casts. (The fourth play, Disgraced, features some actors of color and was considered a somewhat surprising nomination.) In strong contrast, Airline Highway is all about diversity. It's about how these people from different walks of life affect one another. These aren't cookie-cutter characters. They make Airline Highway unique.
Airline Highway still has a couple chances to take home Tonys in June. Freeman's best featured actor nomination in particular would be a righteous win. But when the best play award goes to to something that isn't this wild, weird and wonderful show, it will feel just a bit hollow.
Airline Highway is currently on stage at the Samuel J. Friedman Theatre in New York. Watch the trailer below:
Correction: April 29, 2015