Watch an Angry Mom Drag Her Son Out of the Baltimore Riots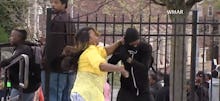 This Baltimore mother was not pleased to see her son rioting across the city on Monday. And she did not hide her disdain: 
After recognizing her son on television, this mother reportedly hauled him out and smacked him down. 
While vast majority of protests in Baltimore have been peaceful, the police reported that a "large number of juveniles" were involved in violent groups. The police department has urged parents to bring them home. 
Baltimore police commissioner Anthony Batts commended the mother during a press conference on Monday evening. "I wish I had more parents who took charge of their kids tonight," Batts said at the conference. The Internet also erupted in collective praise for the mother: 
Watch the full takedown here. 
The video highlights an effective approach the Baltimore police have taken in responding to the riots. According to Baltimore City Councilman Nick Mosby, community leaders asked the police to step back to allow to allow him and other men from the neighborhood to engage with young people. The restraint likely paid off. There were been no reported deaths among protestors on Monday.