This 'Hunger Games' Star Has the Perfect Response to Baltimore Rioting Backlash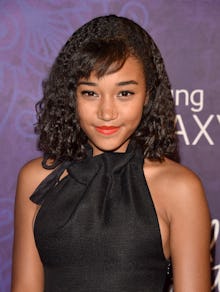 The riots that broke out in Baltimore yesterday in response to the death of Freddie Gray highlight the depths of state-sanctioned violence and racism in the U.S. One of the most thoughtful contributors to this conversation happens to be the teen star of a giant movie franchise.
Sixteen-year-old actress Amandla Stenberg spoke about the double standard at the heart of many media outlets' outlets and public figures' depictions of the unrest: When white people riot, it's viewed as "a costly nuisance," but when people of color do so they are "diminishing the validity of their cause" and "need to be quelled" by militarized police forces.
"Don't condemn our anger," Stenberg tweeted Monday night, also rejecting this notion. "Don't denounce our pain as savage. What's savage is the cruel inhumanity and brutality of the police. Condemn that."
The actress also endorsed another user's thoughts on Tumblr that drew a comparison between her own role in the first Hunger Games film.
This isn't the first time Stenberg has offered a thought-provoking analysis of events surrounding the racial justice movement. The young actress made waves just two weeks ago when she she offered a "crash discourse" in cultural appropriation, for example. 
Stenberg was hardly the only one to eloquently protest this double standard, though. Other prominent figures took the chance to educate their social media followers as well.
Stenberg and others with big voices shouldn't have to educate the public about the racist double standard at the heart of the response to these riots. But hopefully, their efforts will change some hearts and minds and launch a more meaningful discussion about what this most recent expression of anger about: the persistent police brutality in this country that needs to end.
Correction: April 29, 2015