9 Musicians Took to Twitter to Speak Their Minds About Baltimore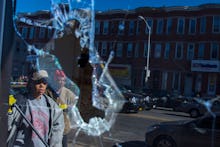 Maryland Gov. Larry Hogan declared a state of emergency and Baltimore Mayor Stephanie Rawlings-Blake announced a citywide curfew to start Tuesday night after tensions between residents and police reached a boiling point following Monday's funeral of 25-year-old Freddie Gray.
Gray died April 19 from a spinal cord injury he likely received while in police custody. The circumstances of his death remain unclear, but it adds yet another unacceptable casualty to the continually tragic encounters between black men and police. As the riots and protests have unfolded, media coverage was sporadic and often one-sided, but some of our biggest musicians are using their platforms to bring visibility to this American struggle. Just as in Ferguson, Missouri, musicians have become some of the most vocal and visible commentators on the conflict. Here are nine powerful tweets from some of music's most socially conscious figures:
Questlove
The Roots' drummer Questlove laid out the coming agenda of the Baltimore police. The looters who mobbed the city's 7-Elevens and protesters who fought against police will receive Baltimore's form of justice. But it's been two weeks and there's still no justice for Freddie Gray.
Tef Poe
Tef Poe was on the frontlines throughout the protests in Ferguson. He wrote songs about it, spoke about it in front of audiences as esteemed as the U.N. Human Rights Council. Many of his tweets Monday night commented on the marches taking place in Ferguson to show solidarity with Baltimore. Sadly, Poe doesn't see the violence ending anytime soon. As he tweeted: "the bullets move faster than the legislation and thats [sic] the problem."
John Legend
Few A-list artists use their status to take bold stances on political issues as frequently as Legend. During his acceptance speech at the Oscars, he spoke eloquently on race and America's prison populations. He's currently working on an initiative called #FreeAmerica to combat our country's mass incarceration problem. 
On Tuesday, Legend tweeted a contentious Atlantic article titled "Nonviolence as Compliance." It shares the uncomfortable truth behind the Baltimore authority's calls for peace: "When nonviolence is preached by the representatives of the state, while the state doles out heaps of violence to its citizens, it reveals itself to be a con."
Future Islands
Indie band Future Islands condemned Baltimore authorities for escalating protests and violence. Police appeared Monday afternoon in full riot gear to confront protesters, claiming they had received "credible" threats that local gangs would target officers. Col. William Pallozzi of the Maryland State Police will request "up to 5,000 law enforcement officials ... to quell the violence," CNN reported. The further militarization may stop the tension for now, though in the long run it may only increase tensions in the city.
Missy Elliot
Some musicians did not attempt to get caught up in the politics of the situation. They merely attempted to offer prayers and support for the fighters and the victims, which is also needed as the smoke clears and Baltimore looks to heal.
Killer Mike
The Outkast-affiliated Run the Jewels rapper tweeted the above account of the scene in Baltimore. It shows a city divided — a more nuanced view than many publications attempt to offer. His assertion that "The control of the least of us will be used as an excuse to further enslave us all" is a powerful restatement of a point he made in connection to Ferguson for Billboard in August 2014, when he wrote: "Whatever this country is willing to do to the least of us, it will one day do to us all."
Kelly Rowland
Rowland, of Destiny's Child fame, offered one of the group's songs to the healing effort in Baltimore. Though Destiny's Child wrote "Stand Up For Love" for World Children's Day in 2005 to bring attention to the thousands of children who rely on charity around the world, the lyrics also apply to Baltimore: "One person stand up there and the rest will follow / For all the forgotten, for all the unloved / I'm gonna sing this song."
Tom Morello
Rage Against the Machine guitarist Morello pointed out how one-sided the use of violence has been in Baltimore. It's difficult to encourage people to remain peaceful when officers have proven time and time again they're unable to do so themselves. "No paid vacations" has been a choice slogan in the Baltimore protests.
Chuck D
Thirteen years ago, HBO gave the world a supposedly honest, gritty look at Baltimore's underbelly and law enforcement with its critically acclaimed show The Wire. The network "pimped" that narrow view of the city, as hip-hop godfather Chuck D claims, for their own gain. And now the city they attempted to capture is speaking for itself, seeking a cathartic release for the years of inequality and struggle, as various sources have framed the conflict. The Wire creator David Simon released his own statement Monday, featuring a very different message: "If you can't seek redress and demand reform without a brick in your hand, you risk losing this moment for all of us in Baltimore. Turn around. Go home. Please."