Ravens Legend Ray Lewis Has Powerful Message for Baltimore Protestors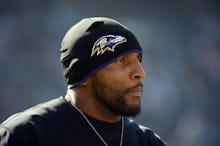 Former Baltimore Ravens linebacker Ray Lewis issued a strongly worded statement to the youth of his city Tuesday, demanding that they "get off the streets" after days of civil unrest that included looting, arson and street fights with Baltimore riot police. He posted the video to his personal Facebook page and within minutes the video had already garnered thousands of shares and likes.
One thing is clear: Lewis is very angry about the violence rocking Baltimore. "No way. No way. No way this can happen in our city," he begins. "No! Young kids, you gotta understand something: Get off the streets!"
"Violence is not the answer, violence has never been the answer." the former football star says. "Freddie Gray, we don't do nothing for him doing this. We know there's a deeper issue. We know what the jungle looks like. But this isn't it." 
Lewis also made a point to call out what "Baltimore looks like" in an apparent plea to steer the attention away from the riots and back toward the everyday people of the city.
Lewis pleads for young rioters to understand that activists, city officials and community leaders are on their side and that violence and property destruction was damaging their efforts to move Baltimore forward. He also tells them that Baltimore will not allow agitators to "dictate" the future of their city.
"There's enough of us in the streets trying to change what's going on," Lewis says. "Baltimore, get off the streets! Kids, go home! Stay home! You don't have no right to do what you're doing to this city. Too many hardworking people build this city. We put this city together. We put this city on our back. We're with you!"
Lewis himself may not seem the most likely spokesman for the anti-violence movement, considering questions have lingered about his involvement with a double murder outside an Atlanta nightclub in 2000. 
However, as a local legend for his days on the Ravens, hopefully his words will encourage some of the people contributing to Baltimore's current woes to rethink their role in what's still happening across the city.