People Flew These Drones Over Ghost Towns — And the Results Are Haunting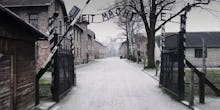 There are few things more chilling than an empty death camp or an abandoned city ravaged by radiation. But thanks to the use of unmanned aerial vehicles — better known as drones — we can view corners of the world few will ever get to see in person.
Flying robotic cameramen can provide up-close views of things that aren't usually put under a magnifying glass. The tourism departments of Ukraine, for example, don't invite national visitors to come experience the country's dilapidated nuclear zones. Detroit does offer "urban exploration" tours of its wrecked warehouses — sagging remnants of an age when it was the Motor City, hotbed of American industrialism — but there's no flyover option.
These drone images, however, take a somber look at disaster, dilapidation and one of the darkest moments in world history. Without them, we wouldn't be able to see the true face of our planet.
Inside Chernobyl's nuclear ghost town
After the Chernobyl Power Plant explosion in 1986, the 50,000-person town of Pripyat, Ukraine, became an empty collection of radioactive buildings. British filmmaker Danny Cooke flew a drone into the town to show how it looks nearly 30 years later.
A look at abandoned Detroit
New York cinematographer John Marton visited Detroit to capture footage of what the city looks like today. The locations include the Packard Automotive Plant, the Eastown Theater and the Fisher Body Plant — but they look more like an extension of the Chernobyl footage from earlier.
The Nazi death camp of Auschwitz-Birkenau
Auschwitz-Birkenau, the Third Reich's largest and most infamous concentration camp, was liberated 70 years ago, but the massive compound still stands in southern Poland. More than a million people died at Auschwitz at the hands of Hitler's regime. Today, the remains are maintained as a World Heritage Site.
The forgotten Japanese town of Tomioka
After Tomioka, Japan, incurred the wrath of a massive tsunami in 2011, its Fukushima Daiichi nuclear reactor caused massive levels of radiation to leak — a problem still being dealt with today. The small town's 16,000 residents still can't return to their homes (or what's left of them). HEXaMedia caught video of the town, deserted except for a university group attempting to clean up after the 4-year-old mess. The cherry blossoms that once bloomed are all gone, and what's left is a forgotten town ravaged by radiation.
Craco, an Italian ghost town
Now used mainly as a filming location — you might recognize it fromQuantum of Solace, Nativity and Passion of the Christ), the southern Italian town of Craco was evacuated in the 1960s due to natural disasters. What wasn't swept away in landslides now sits empty and ancient in the mountains. It's now listed in the World Monuments Fund.
An unfinished Washington State nuclear power plant
After construction of the Satsop Nuclear Power Plant in Washington state halted in the 1980s, the towers were abandoned. Their massive frames, however, still stand today. Amazon engineer Braden Roseborough caught high-up sunset footage of the giant cooling towers. The view will make you feel bafflingly small.
Drones, and robots in general, come with a stigma. They're able to kill and maim with no means of accountability. They can be flown into homes carrying deadly explosives. But drones, equipped with cameras, can also take us back in time, shed light on oppression and let us explore places the world forgot.