These People Flew Drones Into the World's Natural Wonders — Watch What Happened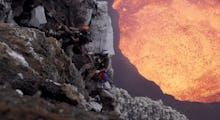 Fly into the gaping mouth of an active volcano. Ride on the back of a leaping dolphin. We've entered an era when tiny, camera-wielding, remote-controlled robots — better known as drones — can take us on vicarious adventures anywhere we want. And we never even have to leave the couch.
Drones, formally called unmanned aerial vehicles, offer angles and perspectives out of reach for a photographer on foot. The resulting footage: awe-inspiring views of places humans simply can't access. Some shots are drop-dead, chin-to-floor, out-of-control beautiful.
Into the volcanos of Vanuatu:
Explorer and filmmaker Sam Cossman took a small team of drone pilots to the South Pacific's Ring of Fire in the Vanuatu Archipelago, where you can find one of the world's few permanent lava lakes, according to National Geographic.
Given the extreme, 1,000-degree heat, many of the drones didn't make it out of the 7.5-mile-wide Marum crater, where boiling lava spat and roared beneath them. But not before Cossman caught footage. And unless you're being sacrificed to an angry volcano god, you shouldn't ever be able to see this footage again.
Along the desolate cliffs of Vermilion:
Even though it's right next to the Grand Canyon, Vermilion Cliffs National Monument is practically a ghost town. In contrast to the Grand Canyon's 4.6 million visitors a year, the 300,000 acres of Vermilion are seldom touched by tourists. Tristan Greszko is one of them. He sent a drone with a GoPro to shoot some of the monument's more beautiful, and absurdly dangerous, cliffs and valleys for Smithsonian. The result? Breathtaking.
On safari in Kenya:
American photojournalist Ben Kreimer worked with Africa's first drone-journalism team, African SkyCAM, for a rare glimpse of the Ol Pejeta conservancy in Kenya. And unlike on typical safaris, where photos must be taken from far away, Kreimer's video shows what it looks like when animals encounter UAVs for the first time.
On safari — but with dolphins:
Capt. Dave Anderson hosts dolphin- and whale-watching expeditions in Dana Point, California, and Maui. This time, instead of guiding a tourist group, Anderson brought a GoPro-equipped drone on the water with him. It gave him a much larger audience; the video has over 10 million views.
Deep within the Serengeti:
British photographer Will Burrard-Lucas built his own UAV, customizing it in order to get rare and nearly impossible shots of wildlife in the African Serengeti. His custom drone is powerful, albeit a little noisy; it even has a lightweight camera that can move quickly — like when a hyena, already in the middle of dragging a buffalo through the grass, gets too curious.
Into a snowstorm in western New York:
When the snow started falling hard in western New York, West Seneca resident Jim Grimaldi wanted to explore — but the snow was packed a few feet high against his house. So he used a UAV and a GoPro to take a look around. His neighborhood looked more like the Star Wars planet Hoth than a town outside Buffalo.
Swim with killer whales in the wild of Vancouver:
The Vancouver Aquarium Marine Mammal Research Program, like any other sane group of people, couldn't get close enough to a massive pack of killer whales to perform their research. So it sent in a drone, nicknamed "Mobly," to detect anything from pregnancy to malnourishment in the whales. And the rest of us get to view something most people will never get to see with the naked eye.
Shooting on top of the world: the Arctic:
Photographer Peter Cox spent two weeks traveling almost 2,000 miles in the Arctic's Svalbard archipelago. Using a camera attached to a drone, he captured footage of some of the most desolate nature and wildlife in the world.