This Iraqi Cellist Played at the Site of a Car Bombing to Fight Back Against Terrorism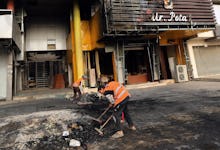 On Monday, three car bombs shattered the peace in Baghdad, killing at least 19 people. One of the most deadly of these attacks took place in the upscale district of Mansour, according to Reuters. Yet this area also witnessed one of the day's most powerful displays of resilience.
Famed Iraqi maestro Karim Wasfi set a chair and a cello on the spot of the bombing and began to play. He gathered an awed crowd with his elegiac and resilient playing that sent a message to terrorists that they can't suppress the human spirit. 
Someone took a photo of Wasfi — and that message is as clear as his music:
"He is playing music for the souls of the people who died just a few hours ago," one Iraqi man tweeted, as reported by 7 Days in Dubai. "I can imagine them listening too and wondering why?"
Wasfi, chief conductor of the Iraqi National Symphony Orchestra, has used music to celebrate hope in the face of violence and death before. 
When the Iraqi government lifted its decadelong curfew in February, Wasfi brought his cello into the street to play after midnight. "Lifting the curfew will help us to find a wider chance to show our art and creativity to the people," Wasfi told NBC News, adding: "I hope that the freedom of movement is not going to cause problems for the people."
He's also held unpublicized concerts as a means to keep Iraqi music and culture alive against threats of the Islamic State group, which forbids music. "If anyone from any sect bets against gatherings like this one, they'll lose the bet," Wasfi said, addressing an audience at one such concert, according to NPR. "But if you don't agree with me, don't cut my head off."
On the streets of Mansour, Wasfi offered a similar message of hope Monday.
"We just want to live a decent and safe life like people in Europe and America. Bombing is not a solution for our problems," he told 7 Days in Dubai. "The Iraqi people want to live and protect their civilization and heritage. Civilization started in Iraq and will continue and never die."
h/t 7 Days in Dubai