The Story Behind Oasis' 'Wonderwall' Will Make You Like It Even More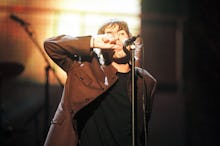 The Britpop hit "Wonderwall" is generally reserved these days for late night karaoke and amateur open mic nights. When Oasis released the song in 1995, it was one of the biggest and most successful British tunes of all time — and certainly one of the more recognizable. As the years passed, the song was mercilessly overplayed and nearly strangled to death by alternative radio. In fact, even Liam Gallagher, Oasis' lead singer, despises the song.
"I can't fucking stand that fucking song," he said, according to MTV U.K. "Every time I have to sing it I want to gag. Problem is, it was a big, big tune for us. You go to America and they're like, 'Are you Mr. Wonderwall?' You want to chin someone."
Now, as rumors swirl surrounding a possible Oasis reunion, it's worth revisiting "Wonderwall," and to recognize, 20 years on, how incredible it really is.
In Britain in 1995, Britpop — a reaction to early '90s alternative rock — merged intelligent music with smash hit success. Trendy one-word bands like Blur, Pulp and Suede emerged with the reigning sound of the mid-'90s. A similar thing happened stateside, with bands like Nirvana, Green Day and No Doubt skyrocketing from formerly cloistered scenes to the pinnacles of fame.
Amid that music scene, Manchester-based Oasis entered the studio to record their second album. Lead songwriter Noel Gallagher penned "Wonderwall" at Rockfield Studios in Wales on a rainy Tuesday night. Noel, the show-runner of the band, told his brother and Oasis' lead singer Liam that Liam could sing the lead on either "Wonderwall" or "Don't Look Back In Anger," and Liam chose the former — reluctantly.
The band's producer, Owen Morris, said that with Liam's vocals, "Wonderwall" sounded like "rasping blues, like he's smoked 100 cigarettes." It was less a compliment than it was the truth; Oasis were known for their heavy drug use and backstage antics. When Spin magazine asked Noel in 2008, "What great Oasis songs were not written on drugs?" Noel replied, "None. Before 1997, I hadn't written a song without the aid of the old Colombian marching gear."
It was a strategy that seems to have worked. The title of the song, "Wonderwall," was a subtle hat tip to Oasis' predecessors, the Beatles. In 1968, George Harrison released his first post-Beatles album, Wonderwall Music, which also happened to be the soundtrack to the film Wonderwall from that same year. Oasis cites the Beatles as one of their most important influences. 
"The Beatles are, to me, the be-all and end-all," Noel said in 1995, according to NME. "Where it starts and where it finishes."
The song's influences are clear from its sound; the song's meaning, though, is far less clear. In 1996, Noel told NME that the song was about his then-girlfriend. But in 2002, Noel backtracked on that statement, telling the BBC, "The meaning of that song was taken away from me by the media who jumped on it." Because apparently his original statement — "It's about my girlfriend, Meg Matthews" — was unclear. 
"A wonderwall can be anything," Liam told Rolling Stone in a 1996 article titled, "Ruling Asses." "It's just a beautiful word. It's like looking for that bus ticket, and you're trying to fucking find it, that bastard, and you finally find it and you pull it out, 'Fucking mega, that is me wonderwall.'"
"And how do you tell your Mrs. it's not about her once she's read it is?" he added.
That's actually one of his more cogent observations. 
But something about the song caught fire. Oasis first played "Wonderwall" backstage at Glastonbury in the summer of 1995, then released the album on which it appears, (What's the Story) Morning Glory? in October 1995. According to Billboard, "the album shot to No. 1 in England, becoming the fastest-selling album in the U.K. since Michael Jackson's Bad." In 1996, Morning Glory became the second-best-selling British album of all time.
Its reception in the U.S. was equally as impressive for an international band. With the help of "Wonderwall," Morning Glory went quintuple platinum; the album reached No. 4 on the Billboard 200 and "Wonderwall" peaked at No. 2 on the Billboard Hot 100. "Wonderwall" also received two Grammy Award nominations.
The true testament to its influence, though, is in the artists it inspired. "Wonderwall" lived on in the years to come as dozens of A-list musicians covered the song, from Cat Power to Jay Z (whose intentionally wretched cover was the product of a feud with Oasis, go figure). Ryan Adams' cover is the most famous version, and perhaps his biggest song: On Spotify, his "Wonderwall" comes in at 17.4 million listens, making it easily his most popular. And even Oasis considered Adams' version better than their own. 
"I think Ryan Adams is the only person who ever got that song right," Noel told Spin. "I'd love to do the Ryan Adams version, but in front of 60,000 Oasis fans that wouldn't be possible."
"'Wonderwall' stood out for its simplicity," the A.V. Club wrote. That's why, 20 years later, everyone with a pick plays the song, but "simple" doesn't mean "bad." The genius of "Wonderwall" comes from its inclusivity and lack of pretension. Check out any open mic night and you'll see "Wonderwall" is the "Free Bird" of the '90s.