J.K. Rowling's First Non-'Harry Potter' Book Is Now an Intense HBO Miniseries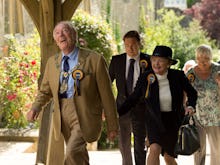 There's good news for fans of J.K. Rowling and HBO: The two have combined forces to bring a new adaptation of the author's work to the small screen.
The Harry Potter author and activist's first book exclusively for adults, The Casual Vacancy, has been adapted into a miniseries of the same name. Airing stateside for the first time this week, the three-hour series will run as a two-episode block Wednesday night and a final hour on Thursday. 
The series focuses on a local council election in a small English village called Pagford. The eponymous vacancy is created when the former councilor, Barry Fairbrother (Rory Kinnear), suddenly passes away. After his death, someone operating as "Ghost of Barry Fairbrother" begins sending messages from beyond the grave.
The story expands from there, examining the effects of Barry's death on the community. It's a sprawling story, and the miniseries treatment gives it time to fully explore many of the novel's threads.
There are changes in the adaptation, of course. For one, the show's been updated to present day, while details like what the council decides near the beginning of the first episode changes. Reading the novel ahead of time isn't required, but the quiet, tense pacing of the series makes any background knowledge beneficial.
The series first debuted on BBC One in mid-February, to mixed reviews. Its gait is a bit scattershot, for sure, but fans of Rowling's voice and style won't be disappointed. In fact, the looser focus on core protagonists — with more of the villagers getting a chance to shine — allows Rowling's love of ensemble characters to shine through further than it could in the fairly Harry-centric Potter movies.
Mostly, however, the series works by keeping viewers intrigued. It's not a mystery movie by any stretch, but it is pretty provocative. Audiences may find it a bit slow at first, but once Barry dies in the first episode and the focus shifts to the election, the story kicks into higher gear.
Care to discover the mystery Barry Fairbrother's all over again — or, for Rowling fans who never read the book, for the first time? The Casual Vacancy debuts Wednesday on HBO and its streaming services, HBOGo and HBO Now. This may not be a series you'll watch again and again like the Harry Potter movies, but it's a great ride.
Watch the full trailer below: