9 Facts From the Kurt Cobain Biopic That Will Change How You Think of the Legend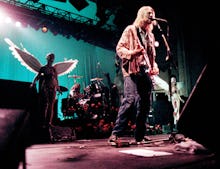 Kurt Cobain's life is easy to mythologize — and for more than 20 years since his death, that's exactly what we've done. But the true appeal of Cobain's music was his vulnerability and his honesty. It was the fact that he was so deeply human, not that he was larger than life. This is what the brilliant documentary, Kurt Cobain: Montage of Heck, gets about Cobain. The documentary, which airs May 4 on HBO, makes him human again.
"I just wanted to sort of reveal the man behind the myth," director Brett Morgen told Fast Company. "What I found was the man was much more interesting and, as a byproduct, likable than the myth."
By digging through Cobain's old Super 8 films and his journals and interviewing some of those closest to Cobain, Morgen has brought to light some artifacts that reveal a side of Cobain we rarely saw. It puts his life into perspective. He comes off as vulnerable — equal parts loser and genius— as flawed and as secretly insecure as every other human being on the planet. Here are the nine facts that will change how you think about Cobain:
1. As a child, Cobain was constantly let down by his family life.
We rarely think of Cobain as the kind of artist who craved the nuclear family life. But, according to all his family members, that's what he wanted more than anything while growing up.
"He wanted normalcy. He wanted the mom, the dad, and the kids and everything happy — but then he didn't," Kim Cobain, Kurt's sister, says in the film. "He kind of fought against it. He fought against what he really wanted."
After Cobain's parents divorced, Cobain started acting out in a big way. He lived with aunts, uncles and grandparents with all family members, in turn, kicking him out for being too unruly. "He didn't feel worthy because he was rejected," Cobain's stepmother said. "I don't know how anyone deals with having your whole family reject you."
2. Cobain didn't fit in at school, and he turned to drugs to escape.
In an audio voiceover for the film, Cobain described his high school as "a community that stresses macho male sexual stories as the highlight of all conversation."
"I was an underdeveloped, immature little dude, who never got laid and was constantly razzed," he said. "It bothered me probably more so because I was horny." 
His solution to the problem: drugs, marijuana in the beginning. "I could escape all day long and not have routine nervous breakdowns," Cobain says. He made friends with some stoners he hated because they could get him pot. But eventually the marijuana didn't cut it anymore, and it became his gateway to more dangerous highs. 
3. He attempted suicide in high school.
Cobain first sexual experiences were tragic. Cobain wanted to lose his virginity so badly he attempted to sleep with a mentally handicapped girl that his friends used to visit to steal booze from. She was open to it, but Cobain couldn't go through with it.
When his peers found out about it, though, they called him "retard fucker." Cobain attempted suicide for the first time shortly thereafter by lying down on train tracks. Miraculously, the train switched tracks before he ran it him over, and the whole ordeal scared Cobain enough not to try to repeat it.
4. Throughout his life, Cobain was extraordinarily sensitive to criticism.
For someone who claimed over and over again in interviews that he didn't care whether Nirvana was popular, Cobain was sensitive to criticism.
"Kurt hated being humiliated. He hated it. He hated it," Krist Novoselic, Nirvana's bassist, says. "If he ever thought he was humiliated, then you'd see the rage come out. And so he was also very careful and stubborn about how the art and work was presented because he couldn't be humiliated."
Kurt Cobain: Montage of Heck also shows numerous clips of Cobain's journals that show him cursing out journalists and others who tried to sensationalize his life and art.
5. He suffered from uncontrollable stomach pain his entire life.
"Most of the time I sing right from my stomach — where my stomach pain is," Cobain says in an interview shared in the documentary. His stomach pain was often so bad it drove him to the point of wanting to kill himself. "So I decided to self-medicate," Cobain says. And he did so with heroin.
When asked if he thought that pain fueled his art in an interview, Cobain responds: "That's a scary question because I think it probably helps. But you know I would give up everything to have good health."
6. As an adult, Cobain still wanted a home more than anything.
Perhaps because of his fixation on the safe and happy home he never had, Cobain wanted desperately to build one for himself and for his own family. "When Courtney came into his life, she was interesting, she was artistic, intellectual and you know, she did drugs too," Novoselic says of Cobain's wife, Courtney Love. "But that was all part of the package of building a home."
7. Cobain never knew he was handsome.
"He was super cute, but he carried himself like someone who didn't know that," Love says in the documentary. "And that was part of the charm. He didn't know that he was a better looking guy than Brad Pitt. We got on like a house on fire."
They look tremendously happy as well in the home video footage included in the documentary. It really does show Cobain's "gentle side, his romanticism, his humor," as Morgen told Fast Company,  "it feels like they're almost like Lucy and Ricky."
8. He was a fiercely protective father.
Cobain's daughter was allegedly born with methadone in her system, and Cobain had to go through a series of custody battles to get her back. The process tortured him. "The thought of losing my baby haunts me every day," he wrote in his journal. "I will fight to my death to keep the right to provide for my child. I'll go out of my way to remind her that I love her more than I love myself. Not because it's a father's duty, but because I want to out of love."
9. ... And an extremely jealous husband.
Cobain's jealousy was hellish at times. Love tells a story about a time she considered cheating on him, and somehow he sensed it. "He must have been psychic or something," Love says. She never went through with it, but Cobain's response was to take 67 Rohypnols, a relaxant drug. "And he ended up in coma, because I thought about cheating on him." A month later he attempted suicide again, and that time he didn't fail.