This Will Be the Best Rapper of 2015, But You Probably Don't Know His Name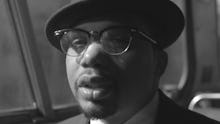 In 2009, Charles Hamilton was one of the most exciting up-and-coming rappers in the world alongside artists like B.o.B, Wale, and Kid CuDi. He was unstoppably prolific — by the age of 22, Hamilton had put out 22 mixtapes. They didn't go unnoticed. Through a combination of vicious freestyling ability and his phenomenal mixtapes, he had earned a seven-figure deal in late 2008 with Interscope Records to work on his first album, The Pink Lavalamp. A diverse sonic landscape, The Pink Lavalamp was shaping up to be a masterwork filled with the percussive tenacity of producers like J. Dilla, pop samples often used in radio hits and Kanye-esque sampling of mid-20th century soul. The album's intended single, "Brooklyn Girls," was produced by the legendary DJ Skee and drew a lot of buzz.
Then, in late 2009, Hamilton vanished. His label dropped him without releasing the record. He fell on hard times and has been out of the public eye ever since. Until now.
His fall: If you type "Charles Hamilton" into a YouTube search, the first suggested search term is "Charles Hamilton gets punched." In May of 2009, a video surfaced of a rap battle between Hamilton and an ex-girlfriend named Briana Latrise. His ability to freestyle rap was unparalleled. Where most popular rappers memorize pre-written lyrics and recite them, Hamilton could improvise witty lyrics for as long as fans would listen. He once freestyled for 14 minutes straight, and even dominated Kendrick Lamar in a rap battle. But in this video, Hamilton makes a series of inappropriate remarks at Latrice's expense until she punches him in the face. The video went viral and quickly eclipsed the chatter around Hamilton's talent and music. 
In a recent interview with Hot 97's Peter Rosenberg, Hamilton explained his disappearance had much to do with his inability to cope with public criticism. Hamilton was a backpack rapper who wore and talked about the color pink, and claimed his favorite genre was rock. The video unleashed a torrent of mockery which was only the start of Hamilton's public humiliation, and he started to unravel. Over time, Hamilton stopped rapping on radio shows, stopped touring and stopped appearing on YouTube altogether. A few months after the incident, Hamilton battled a rapper named Serius Jones at a barbershop in Harlem. Jones insulted Hamilton's appearance and left the battle without listening to Hamilton's response. Hamilton had lost his trademark confidence. In the meantime, The Pink Lavalamp was released as a mixtape due to conflicts with Interscope. Just like that, Hamilton's meteoric rise had dissipated. 
In a March interview with Billboard, Hamilton revealed that he had been battling bipolar disorder, moved into an abandoned warehouse in Staten Island and even attempted suicide. 
"I was depressed, paranoid and confused," Hamilton told Billboard. Hamilton's mother had him institutionalized in 2010, where he was diagnosed with paranoid schizophrenia. After his release, Hamilton's downward trajectory only intensified: He was charged with felony assault of a police officer after a violent altercation in Cleveland and spent subsequent months bouncing between prisons and mental institutions. Finally, he moved in with his mother and began making music again.
His return: Nobody was paying attention to him anymore. He was free to create, and create he did. One night, in 2012, he performed an incredible five-hour show where Turn First Artists, the management company behind Ellie Goulding and Iggy Azalea, discovered him. Soon after, they offered him a spot on their roster and Hamilton's fortunes began to change.
Three years later, Charles Hamilton is, against all odds, back. He's signed to Republic Records and has been readying a new release. In March, he unleashed a single entitled "New York Raining," featuring fellow Turn First artist Rita Ora. He performed on the FOX series Empire and released the music video on April 13, 2015. The video tells the story of a relationship that endured the turbulence of the Civil Rights movement; Hamilton is somber, focused. His lyrics are eloquent and cutting.  
Since then, he's performed numerous times, both on stage and on major network television. Seven years and dozens mixtapes after what should have been his big break, he's finally going to release his first album in September.
"Survival is key. Do what you have to do in order to survive," he told Pigeons & Planes in a recent interview. "First of all, don't burn any bridges. Second, know who you are before you get into the business. You have to know who you are and what you're about before you step into the business. And finally, believe in yourself — the ultimate. You gotta really believe in yourself."
It's a rare kind of luck that Hamilton has. Soon, he'll catch the break he's deserved. In the meantime, videos of his freestyling have started to appear on the Internet again.  And again. And again.