Frustrated Baltimore Councilman Tells CNN: "Just Call Them Niggers"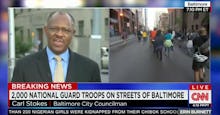 In yet another example of the media's racially biased coverage of civil rights protests across the country, on Tuesday night CNN anchor Erin Burnett insisted on the use of "thugs and criminals" to describe Baltimore protesters while talking with guest Baltimore City Councilman Carl Stokes. 
As Burnett tried to double down on the use of the term, Stokes continued to fight back before eventually calling out Burnett explicitly.
Watch how the whole thing went down:
Watch the full video below:
As Mic's Derrick Clifton notes, "A thug is simply defined as 'a violent criminal,' or 'a cruel or vicious ruffian, robber or murderer.'" 
The problem lies in when people choose to use the word and the racial undercurrents associated with this choice. "If the word 'thug' were used to reference all forms of violent action, that would be one thing," Clifton writes. "But this word has become reserved for black people, regardless of whether or not they're engaged in civil unrest or criminal activity." 
There is, invariably, a symbioses between vernacular and racism, and a powerful one at that. The weight of the word "nigger" and its historical significance could not be a better example. How we talk about race is just as much of a problem as how we act on or think about it. The country needs to address the way we discuss it as much as racism's manifestation on the ground — even if it's uncomfortable. CNN and the rest of the media would do well to remember that.