The Pope May Have Just Given His Most Feminist Speech Ever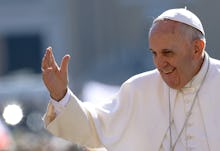 Around the world, women earn 24% less than men on average, and they earn half the income of their male counterparts over their lifetimes. Pope Francis knows this is a big problem. 
"Why is it expected that women must earn less than men?" Francis asked a crowd in St. Peter's Square on Wednesday, according to the National Catholic Reporter. "No! They have the same rights. The disparity is a pure scandal."
A Christian Value: Considering the recent U.N. Women report — which generated the above statistics — the pope's comments bring attention to a still-rampant issue. Francis hardly curbed his advocacy for equal pay: "Radical equality" is, in fact, a Christian value, he said, adding that Christians "must become more demanding" in ensuring that equality is realized.
Marriage — the overarching topic of the pope's address — is not incompatible with women's emancipation; nor is it to blame for lower rates of marriage, the religious leader said, adding the mere idea of this is "an insult!" He also said blaming women for lower marriage rates "is a form of chauvinism" used to "control the woman."
Advocating for equality in marriage isn't the only way Pope Francis is pushing for modern family attitudes in the Roman Catholic Church, either: He has also vocally pushed for a more lenient attitude towards divorce.
While the pope admittedly still falls short on some progressive issues — he maintains oppressive views of same-sex marriage and birth control, for example — the impact of one of the world's foremost spiritual leaders advocating for women's equality cannot be underestimated. Perhaps the millions of people who follow this leader will take his comments to heart and also advocate for women's equality. 
h/t National Catholic Reporter