The 'Broad City' Ladies Just Gave Women the Empowering Reminder They Need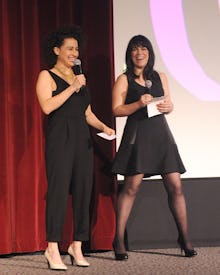 Being a woman means everyone around you — relatives, friends and complete strangers — feels like they have carte blanche to question your personal path. Dating? Kids? Marriage? When you're in your 20s and 30s, there are a lot of questions to answer and expectations to meet.
Nobody knows this better than Ilana Glazer and Abbi Jacobson, the comedy duo best known for creating and starring in Broad City. In a speech honoring Amy Poehler at Monday night's GildaFest '15, the pair ran through a list of what it means to be a "badass bitch," and included two very important topics, according to Vulture:
Glazer said, "So I'm a badass bitch because my friends from home are all getting engaged and married and moving in with people forever and it doesn't pressure me. It doesn't bother me at all. I don't feel that pressure cooker of life choices. I don't even think about it at all, honestly."
Jacobson added, "I'm a badass bitch because I'm 31 and it's been made clear to me that 31 is an age where women should — it is, really — it's been made clear to me that 31 is the age where women should start thinking about freezing their eggs. And I don't think about it, and I don't let it pressure me."
Unrealistic pressures: The "pressure cooker of life choices" that Glazer and Jacobson reference — and reject — is something most women will recognize. From an early age, women get the message that being a mature adult and finding happiness are predicated on milestones like finding the One, getting married and having children. Oh, and they should be well on their way to accomplishing it all by the arbitrary 3-0 mark.
"It's strange that when I started college, I thought I'd be living with my boyfriend [by now] with an engagement ring on my finger and two dogs. Obviously, that didn't work out, and it makes me anxious that I'll never see that story unfold," Sarah, 25, previously told Mic.
These benchmarks are all the more overwhelming because of how incongruent they are with our modern realities. With the prevalence of casual hookups and the disappearance of typical relationship labels, the relationship milestones of decades past don't ring as true for modern women. Nor do they need to.
A new definition of "badass": The truth is, many millennial women have flipped the script on what it means to be a successful adult woman. They're exchanging ideals of an early marriage and children before 30 for a new reality. In 2015, there is a rising rate of women voluntarily skipping kids altogether, and singles now outnumber married adults. 
More importantly, we're having more conversations — led by "badass bitches" like Glazer and Jacobson — about how marriage, kids and romance aren't the only achievements women can strive for. The cultural myths being that unmarried women are sad spinsters and women without kids are selfish and shallow are still strong. But statements like Glazer and Jacobson's remind us that they're just myths; we can, like the Broad City ladies, find fulfillment through plenty of other outlets from awe-inspiring careers to lasting friendships.
The definition of "badass bitch," in short, is still ours to make.