Baltimore Was Peaceful Tuesday Night — This Powerful Image Shows Why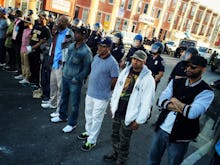 As Baltimore descended into chaos on Sunday night and much of Monday, Americans watched in horror as large sections of the city were vandalized and looted. But on Tuesday, Baltimore was largely peaceful.
One image from ABC 7 journalist Van Applegate goes a long way towards explaining why: Ordinary members of the Baltimore community stepped up to de-escalate the violence and bring order to the city. 
This photo of a "unity line" shows activists shielding lines of Baltimore riot police from demonstrators and vice versa, with the clear message that anyone looking to start trouble on either side would have to go through them first.
According to Applegate, this kind of community activism helped ensure Baltimore was peaceful Tuesday night, with limited disruption during an all-night curfew imposed by city officials.
CNN reported cooperation between police and protesters such as that seen above proved crucial to maintaining order throughout Baltimore, with only 10 arrests occurring after the 10:00 p.m. curfew start time. 
"We show that we can police ourselves," a man standing in the unity line told CNN. "We're about positivity here in Baltimore. It starts with us. This long line of people came out here because what we seen on TV yesterday, we didn't like it."
Good job, Baltimore.