'Seinfeld' Will Officially Be Coming to a Streaming Device Near You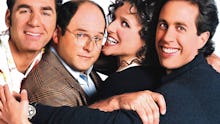 Fans of Seinfeld who wanted instant streaming reruns of their favorite show have been out of luck for a while. As Gilmore Girls, The West Wing and other shows found their way to Netflix, the ultimate show about nothing continued to deny them as harshly as a soup Nazi.
But lo, where Netflix wasn't, Hulu now is: The service announced that every episode of the series would be available for streaming starting in June. The deal, reported by Deadline and Variety on Tuesday night and confirmed Wednesday morning, is valued at somewhere between $130 million and $180 million.
Nine seasons of Seinfeld goodness? Could these episodes possibly be real?
Hulu has made a huge investment here, but considering how popular Seinfeld has been in reruns — Larry David and Jerry Seinfeld can each make $400 million in the most recent syndication cycle, Vulture reports — this is a smart decision. Considering the cultural frenzy that launched when shows like Friends and The Simpsons became available for streaming, you can expect to see a lot of fond remembrances of Seinfeld in the coming month and a half.
In the meantime, if you're a Seinfeld fan without Hulu Plus, it might be the right time to sign up. It's only $8 a month, after all.
Until June, you can get excited for the episodes by catching up on some of your favorite moments. Just try not to get stuck in a YouTube rabbit hole all day.