What Our Obsession With Baltimore's "Mom of the Year" Says About Us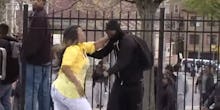 Racism has manifested in more ways than one over the course of the Baltimore rebellion — just look at how the media has discussed the women involved in this event. 
Perhaps just as egregious as the media's castigation of protesters as "thugs" is their treatment of Toya Graham, and all the women denouncing racial injustice in Baltimore. Graham, who in dragging her son off the street in an attempt to save his life so that he doesn't become "another Freddie Gray," has become the only noticeable woman in the media's eyes participating in the events in the city. The video of her smacking some sense into her teenage son has gone viral. 
The New York Post declared Graham "mother of the year" and featured her on Wednesday's front page. She has garnered a legion of fans across the political spectrum, with liberals celebrating her for protecting her son's life to conservatives declaring her the ideal black mom for getting her "thug" kid off the street and, according to Fox News, "parenting" the right way. Implied in their comments, of course, is that this is what black moms should be doing, considering that the "lack of black fathers" has caused all this — at least according to Rand Paul.
Here's the problem: The media loves Graham because she is acting how American culture stereotypically sees — and prefers — black women. America wants a strong, "angry black woman" keeping her "thug" son in check. We celebrate women like her with Facebook fan pages. 
This is the type of black woman America adores — Tyler Perry has built an empire based on this. 
The type of black woman we don't pay attention to, respect or even celebrate? Women who are at the front lines in Baltimore, like Tawanda Jones and Qiara Butler, activist members of the grassroots organization Baltimore BLOC. Women like Rekia Boyd who was killed in Chicago due to police brutality.
Here are a few women who are championing peace while fighting injustice who the media should take note of — because it's hypocritical for the media to focus on racial injustice all the while perpetrating it in its coverage.
Black women lead the charge: Black women have led major activist movements throughout American history, from Harriet Tubman leading slaves to freedom to black women being key organizers of the civil rights and women's rights movements. The #BlackLivesMatter movement, in particular, has queer female roots. As Gloria Steinem told Black Enterprise earlier this year, "I thought [black women] invented the feminist movement ... I know we all have different experiences, but I learned feminism disproportionately from black women." Women, like Florynce Kennedy, who Steinem mentioned in her interview, bridged both movements and taught white women how to run a grassroots movement.
The media can do better. America can do better. What Graham did was commendable, but we dishonor her and the countless black and brown women in Baltimore by sensationalizing  her actions to the level of racist parody.