This Tiny Baby in Nepal Was Miraculously Rescued from Rubble and Survived the Earthquake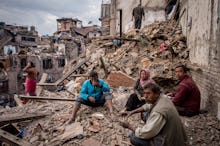 The Nepalese army rescued a 4-month-old baby who miraculously survived the weekend earthquake and subsequently spent at least 22 hours buried in rubble.
The news of Nepal's devastating 7.9-magnitude earthquake on Saturday swept the world with its tragic aftermath. The death toll is still rising, currently hovering somewhere above 5,000, and many remote areas are still awaiting recovery missions. 
However, there is inspiration to be found in this tragedy. The way the world has corralled around Nepal, offering people, equipment and aid in a collaborative rescue effort has offered hope to many. The unlikely survival and rescue of this 4-month-old is another such example. 
When the army first discovered the baby's location, they were unable to reach it and abandoned the difficult search, assuming it dead, according to a Kathmandu Today report cited by ABC. After they left, however, the child began crying, and soldiers returned to retrieve it from the rubble. 
The baby does not to appear to have suffered any injuries is reportedly in good condition.
Children are in desperate need of assistance. Young people have been left particularly vulnerable in the wake of the disaster.
"U.N. children's agency UNICEF said Wednesday that 1.7 million children are now in urgent need of aid in the areas worst-hit by the earthquake as it launched a $50 million appeal to get help to them," CNN reports.
"The lives of so many children have been torn apart and they are in desperate need of life-saving support, including clean water, shelter and sanitation," Tomoo Hozumi, the agency's Nepal representative, told CNN.
Adding to the difficulty of recovery efforts are strong aftershocks, heavy rains and subsequent landslides that have many Nepalese too afraid to sleep indoors. But this little miracle baby gives hope to those who are working to protect the most vulnerable in Nepal. It is a symbol for the strength of the Nepalese and demonstrates it's not too late to make a difference.