A Paralyzed Man in a Bionic Suit Is About to Do the Unthinkable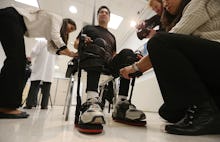 Thanks to a cutting-edge exoskeleton, a man whose body is 85% paralyzed will walk a marathon.
The Irish Examiner reports that Nathan Kirwan, a 26-year-old from Cork, Ireland, will attempt to complete 55,000 steps in the suit, fittingly dubbed "Lazarus." The walk will be take place over five months. Kirwan hopes to raise approximately $167,000 to buy the suit — and make it available in Ireland for rehabilitating people who use a wheelchair or those who had a stroke or have multiple sclerosis.
The backstory: In 2013, a spinal cord injury left Kirwan paralyzed from the mid-chest down. He began physical therapy with a trainer at Elite Gym in Cork, where Lazarus was being used for the first time in Ireland as support for patients in wheelchairs.
The suit is on loan from its manufacturer, California company Ekso Bionics, which initially built it for soldiers in the U.S. Army to move heavy supplies. (The suits already exist in a military capacity.) In order to keep the loaned suit at the gym for public use, Kirwan and his trainer, a champion kickboxer named Colin O'Shaughnessy, started a charity called Helpful Steps. They hope to raise enough money to buy the suit.
The physical benefits to movement: Walking — even with the suit's assistance — enhances blood flow, retains bone density, lowers muscle atrophy and keeps bowels and bladders running right. Real walking is significantly better for the body than the rehabilitation of specific body parts.
"This is not necessarily about walking," Kirwan said, according to the Irish Examiner. "This is about standing up out of a permanent sitting position, moving in a walking motion, whilst getting the benefits of walking. Able-bodied people need to walk to stay healthy, and this is especially true for wheelchair users."
The charity has only achieved a small percentage of its funding goal. But that may change when Lazarus is put into action May 3 at the Wings for Life World Run.
Watch the full video of Kirwan below.
h/t Irish Examiner