Alabama Shakes Just Released an Incredible New Music Video for 'Sound & Color'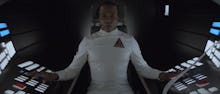 On Wednesday, Alabama Shakes released their first music video for the title track off their experimental sophomore album, Sound & Color. In keeping with the album's exploratory, pseudo-psychedelic vibe, the "Sound & Color" video takes place in a disorienting futuristic spacecraft. This is a far cry from anything they've attempted before, and it's amazing.
The video's director, James Frost, is known for his innovative music videos. Famously, he did the music video for OK Go's "This Too Shall Pass." His vision for "Sound & Color" has a distinctive 2001: A Space Odyssey feel and is masterfully shot. The clever cinematography and eerily beautiful song make the video's three minutes feel like a much longer epic.
The story follows an astronaut who wakes up from a deep sleep on an empty spaceship.
While attempting to orient himself, he experiences rapid flashbacks of his family and his life on Earth, interspersed with images of a cosmic explosion of some kind.
He learns that his ship has veered off course, that he may never return to earth. But in the last seconds of the video he sees a light, a powerful burst of color. It serves as a foreboding cliffhanger, which as Consequence of Sound suggests, hints "that this visual may just be one of many in a conceptual video series."
A new sound, a new look: The three-minute film marks a sharp departure from Alabama Shakes' previous music videos. The official video for "Hold On" was nothing more than a video of the band playing the song in a dark, wood-floored room.
But remaking their sound and image was part of Alabama Shakes' mission for this album.
"[W]e didn't want to do something like Boys & Girls, Part Two," Brittany Howard told ATO Records. "We've grown a lot, learned a lot about music, listened and thought about a lot of things — about being minimal and tasteful, keeping it classy. After that decision to start over, with a clean slate, it was easy. We could just do what we wanted to do."
That new strategy has brought some brilliant music and media into the world. Stay tuned to see how the story continues.