There's a Snapchat for People Who Constantly Send Music to Their Friends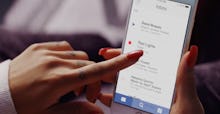 There's a new app hitting smartphones around the world that makes it powerfully easy to share music with your friends. The aptly titled Music Messenger lets you search for songs from a mammoth library, then pick tracks that the app has compiled from YouTube, Yahoo and SoundCloud. Once you select a song, you can add a message or a photo and send it to your friend via the app.
"The ability to customize my music message with a photo is awesome," co-founder David Strauss wrote to Mic. "My wife was angry with me last week and I sent her a Sade song with a picture of flowers and wrote 'forgive me,' and it was all good after that." 
This is a revolution in how we listen to music. Music Messenger is outdoing its competition by offering the app around the world, as opposed to the music-sharing app Rithm, which is only available in the U.S. and Canada. And big-name artists like Nicki Minaj and Tiesto are betting a lot of money on it. 
Since its launch in September 2014, Music Messenger has reached about 1 million downloads a month, according to Billboard, and the company is already valued at an impressive $100 million. The app is picking up steam fast, thanks in large part to its international appeal.
"Pretty much every song in the world is available through Music Messenger," co-founder David Strauss told From the Grapevine. Plus, it's completely free and ad-less. "Music lovers around the world really like that," Strauss said.
It doesn't hurt that major players in the music industry are taking notice of the app, too. Gee Roberson, the manager of Minaj and Lil Wayne, and Ash Pournouri, Avicii's manager, both sit on the board of directors. In addition to Minaj and Tiesto, musicians like will.i.am, David Guetta and Sebastian Ingrosso have also invested in Music Messenger. 
"It has been very humbling to have such amazing partners with such added value," Strauss told Mic. The artists themselves love the app, too. 
"I think it's an amazing and simple way to send music," Ingrosso told Forbes. "The way you can make it personal by adding pictures and text to it is genius, and this is just the beginning."
The app was created by an Israeli entrepreneur, O.D. Kobo, who sold his app Pheed, a social media platform for teenagers, just one day before he started working on Music Messenger. According to Billboard, Kobo and five of his friends were "seemingly bored" and tired of having to manually copy and paste YouTube links into text messages. They came up with Music Messenger as a solution, but it very rapidly showed itself to be something far more revolutionary.
"I know we built something good when it is a technology that touches the heart," Kobo told Forbes. "Getting a song from a friend, my fiancé or my mother is more than the song — it's a memory, a feeling. I am proud of what Music Messenger does."
The app is growing, and fast. According to Inc., Music Messenger "already ranks in the top 25 music apps in the App Store in more than 50 countries, and is growing by more than one million new users each month — that's quite impressive."
Next up, Music Messenger is working with record labels to use the app as a promotional tool for new albums, and Strauss told Billboard that they're planning to expand into China. Music Messenger could very well be the next big thing in music streaming and sharing.