8 Songs by Native American Rappers That Deserve to Be Heard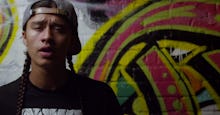 When hip-hop was born in the Bronx in the 1970s, it offered an unprecedented and powerful voice for the voiceless. The movement has since gone global, lending a vocabulary to people struggling for liberty and safety in places as far-reaching as Palestine, China and Russia.
Hip-hop still has work to do in the States, though, and nowhere do hip-hop's stories of liberation and resistance resonate with greater urgency than with the country's longest oppressed group: its indigenous population. "Native Americans grasp that culture of hip-hop because of the struggle," Crow rapper Supaman told NPR. "Hip-hop was talking about the ghetto life, poverty, crime, drugs, alcohol, teen pregnancy; all that crazy stuff that happens in the ghetto is similar to the reservation life. We can relate to that."
To this day, Native American reservations still make up some of the poorest regions in the country. There, Native Americans face some of the highest rates of high school dropouts, crime and suicide. Here are eight songs from Native American rappers that perfectly capture the scene.
1. "My Land" by Litefoot
Hip-hop lore holds that Litefoot is the first Native American rapper to hail from a federally recognized reservation. The legend further holds that an RGA record label once agreed to give him a deal as long as his lyrics weren't "Indian ... because Indians don't buy tapes — they buy alcohol," according to E. K. Caldwell in his book, Dreaming the Dawn: Conversations with Native Artists and Activists. 
Litefoot's response was to build his own label, Red Vinyl Records. He's since released 12 studio albums, featuring songs like "My Land," which tells the story of all the pain white America has showered on Native Americans throughout history: "Raped our women and killed our children," he raps. "Replaced all the greenery with concrete buildings." 
He finishes by flipping a classic American anthem on its head: "This land is our land / This land ain't your land / From California to the New York islands."
2. "I'm a Lucky One" by Tru Rez Crew
Tru Rez Crew pieced together their breakout single, "I'm a Lucky One," on a home computer, with a live guitar track and a group of Inuit throat singers. The video was filmed entirely on their home reservation on the Six Nations of the Grand River Territory, an hour south of Toronto. Seeing their homes and landscapes helps to emphasize their message of resilience: "Even though we may have grown up poor on the rez we can still succeed if we try."
3. RedCloud's freestyles
RedCloud, part of the group LightningCloud, set a world record last year by freestyling for 18 hours straight. It was an impressive feat, but even more moving was the way he used the opportunity to draw attention to an overlooked tragedy affecting indigenous women in Canada. Since the 1980s, 1,200 Native Canadian women have gone missing or been murdered — a rate three to four times greater than the rest of the population, as Mic's Zak Cheney-Rice reported via the Globe and Mail.
In his 17th hour, RedCloud rapped the names of every one of the missing women. "I've always wanted to break the record, but do it for something bigger than myself," RedCloud told Mic in November. "This issue is so deep in Indian Country. If I can freestyle about [these women] and get media involved, it could get the whole thing amplified."
4. "Warpath" by Drezus
Drezus, a Plains Cree-Saulteaux rapper, released "Warpath" in July 2014, intending it to be a rallying cry for indigenous men. "We are overlooked," Drezus explained to APTN National News. "Our people are overlooked and we are the people of this land and we're treated as if we're nothing ... [This song is] kind of like a roll call for Native men of who we are and what our roles are as men. It is to ignite a spirit in all of us."
The video features provocative imagery of his native traditions — "colorful buckskin," and "beautiful headdresses, the culture so impressive," as Drezus raps — remixed with modern stylings like black lights and flat brims. The white hand painted over his mouth symbolizes white European institutions trying to silence his people. "[B]ut they can't," he told APTN National News. "And I'm speaking through it."
5. "AbOriginal" by Frank Waln
Frank Waln, a rapper from the Rosebud Reservation in South Dakota who recently appeared on MTV's Rebel Music, is hyper-conscious of how his depictions of Native American culture are so often twisted into "poverty porn."
"There will be no poverty porn in music video," he tweeted about his video "AbOriginal" in October 2013. "No models. No bling. Just some Lakota people smiling, riding horses and being a community." The video shows children on the reservation playing basketball, hanging with family, living ordinary lives  — lives that are frequently misunderstood and overlooked.
"There are people who aren't even aware that we exist in real life," Waln told the Chicago Tribune. "They go to (natural history) museums and see exhibits about Native Americans and think we're a people of the past. But we're a people with a past, not of the past."
6. "My People" by City Natives
Earlier this April, City Natives won the East Coast Music Association's award for Aboriginal Album of the Year for the second year in a row, for their album Red City. "As a people, we're red (aboriginal), making it in the city doing what we love," Beatz from City Natives told Halifax Pop Explosion. "The title just fit the project in all the right ways."
Their music is not as overtly political as many of the other rappers on this list, though "the difficulties faced by Aboriginal peoples and communities come up in their lyrics and political issues often seem to be lurking just below the surface," as Quirks and Quiddities wrote in their review of Red City. City Natives replace that political focus with messages of hard work and determination.
"It's not often that you see four young musicians make it off the reservation doing what they love, to make it in cities and perform nationwide," Beatz told the Eastern Door. Though the tide may soon be changing.
7. "The Radical" by Nataanii Means
As Nataanii Means describes himself on "The Radical": "I'm not a rapper, I'm an activist who rhymes." His songs seek to encompass all the "hardships of the everyday life of the modern 21st century indigenous person," as he wrote in the description of his 2013 debut, 2 Worlds.
Means is the son of distinguished Oglala Lakota activist Russell Means, a prominent leader in the American Indian Movement. "He had a huge influence on me," Nataanii Means told Indian Country Today. "I speak on subjects he talked about often: freedom, identity, the government and genocide. ... I feel like I have the voice to speak to my generation, to awaken the masses and make a country see the forgotten people of America."
One of the most cutting lines of "The Radical" targets all the festival-going hipsters of the world who have forgotten that Indian headdresses have a deep spiritual meaning for Native America. "I got two braids and a beaded necklace / Livin' young and livin' reckless / I've got a bullet for the next hipster in a headdress," he raps. 
Take heed, Coachella.
8. "Mutiny" by Witko
Mike "Witko" Cliff is a visual artist, rapper and close friend of Nataanii Means. They appeared together on the MTV series Rebel Music, telling their stories and talking about the mission guiding their art. "Making it off the reservation, I just want kids to see that they can do whatever they want to do," Witko says in the doc.
The two rappers are specifically dedicated to combating suicide among Native teens, which are the highest at-risk population group in the United States. Witko's raps serve as a release for the frustrations and anger Native kids feel. He discusses instances of police brutality among indigenous populations with honesty and rages against the presidents depicted on Mount Rushmore. "How could history change in a century?" Wiko raps. "Now we sittin' here holding on to memories." History won't change, but the future may in the hands of leaders like these.