The Crazy World of Drake Apps Shows Why He's the Digital Age's Most Important Rapper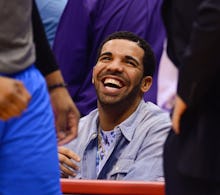 Have you ever tried to style Drake's impressively thick eyebrows? 
It's a tricky thing, much like performing surgery. You have to get the angle of the tweezers just right, and you can't let your hand slip lest you rip out too many of his precious hairs. But once you get it right — the shape, the thickness, the arch, the piercing — it's hard not to feel like the winner of a glorious prize.
We're not talking about the "Worst Behavior" singer's actual facial hair, of course. We're talking about his virtual brows — the ones found in A Drizzy Eyebrow Pluck Makeup Spa, an inexplicable mobile app dedicated to maintaining Drake's bushy forehead curtains.
Plucking Drizzy's brows is one of many outlandish options for interacting with a virtual version of Drake. There are nearly three dozen distinct Drake apps available, and they range from the ordinary to the amusing to the truly bizarre. You can drop Drake into your selfies. Drake can tell you the weather. You can make Drake skateboard, grab pixellated cash in a side-scroller, and fly like a bird. And of course, you can stare at him while you listen to his music.
The apps are strange, diverse and numerous, the apparent byproducts of a crazed fan's fever dream. They're also immensely popular — Drake Shake boasted 100,000 downloads in 2014 — and they help explain what makes Drake, the Canadian actor-turned-rapper, born Aubrey Graham, so beloved by our generation.
The oddball genius of Drake apps: The proprietor of Drake Shake, one of the better-known apps on the market, forged a letter to Apple to get permission to make his vision a reality, as using the rapper's name had presented a unique challenge.
"We reached out to his people and told them about the app, and they were really slow in getting back to us," Ryder Ripps, creative director at OKFocus, the company behind Drake Shake, told Mic. "So I ended up forging a letter from them to get the app approved."
Drake Shake is endless fun. Take a photo, then shake your phone to run through all the different Drakes you can drop in the frame. You can have Drake at your wedding, at the diner, on the subway platform and in your selfies.
Ripps said he came up with the idea for Drake Shake while traveling the world. "I was on my way to spend a lot of time contemplating life on the Mayan ruins, and various islands such as the Cocos Islands, and Phuket," he told Mic. "Over the course of a few years, I just realized that Drake was important and it would be worthwhile to spend a day of my time making an app."
The New York Times characterized Ripps as "an artist of the Internet." It's an apt term for a man who, among other things, came up with the parody typeface Times New Ramen, founded the online image sharing service Dump.fm and created a website for the singer M.I.A.
Despite the fanfare, Ripps said, he hasn't made any money from Drake Shake. It required funds to produce, which he scraped together from odd jobs like "[looking] after the exotic pets of my friends." While he sounded relatively nonchalant about its success, lamenting the fact that it hasn't been updated since it launched, it did help propel him further into the realm of Internet cool kid status. 
Even the rapper himself took notice. Soon after the app launched, Drake posted a photo to Instagram that featured himself with Zoë Kravitz — and a Drake cutout. 
Ripps has gotten interest from some unsavory groups as well. He forwarded Mic an email purportedly from the Islamic State's social media team, inquiring about an app called "ISIS Shake."
How developers capture Drake's mind-boggling appeal: Apps need something special to succeed in today's oversaturated market. For Drake apps, however, their subject — a black, Jewish, Canadian rapper with a goofy smile and a habit of rhapsodizing himself — is the draw. All at once, they tap into, take advantage of and help solidify the appeal of Drake's persona and the interest he sparks.
They are, in other words, an emblem of his essential Drakeness. They are both laughable and strangely appealing, and they would be dead in the water without their almighty lint-rolling leader.
Drake Shake, for example, is remarkably simple and deceptively addictive. Part of the app's appeal is the variety of the photos: Some are serious (Drake staring straight on at the camera), while others are ridiculous (Drake lying down in swim trunks). There's a Drake for every occasion. 
Drake understands the Internet, and he's well aware that it only bolsters the image he's cultivating.
What do all these apps have in common? They draw people closer to Drake. "In the spotlight, [celebrities] almost seem like they're not even human," Regy Perlera, one of the creators of Drizzy, an app that allows users to input Drake lyrics into any app with a keyboard, told Mic. "They're just this thing that exists outside your life. But sharing this idea that you can speak like them, or be like them in some way shape or form, it's interesting to a lot of people. If you really like an artist, [that's] an opportunity to basically feel like them, and personify that person."
Like Drake Shake, the app Drizzy grew out of respect for the artist himself. Perlera and his co-creator, Luc Succes, spent hours parsing Drake tracks in order to narrow down the pool of lyrics. They went with the ones that meant something to them personally, and placed them into categories: "Intros," "Turn Up," "Feels," "Confessions," "Trending," "Motivation," "Hate," "Ex's" and "Hustle."
Though they finished the app in December, Perlera and Succes didn't release the app until early March. It was an immediate sensation, garnering over 200,000 downloads in its first week and landing at No. 1 on the App Store's trending list. 
What makes Drake's persona so app-able? Drake may rap about saving strippers and sipping pricey wine at even pricier restaurants, but he also talks about his mother, his romantic pursuits and his competition, and he's convincingly earnest.
"It all comes down to relatability," Perlera told Mic. "He doesn't put himself out there for just any reason. He puts himself out there because he is who he is." 
Ryder Ripps contrasted him with other rappers whose personas can sometimes feel hard to detect. "I have no idea what Rick Ross feels about anything," he explained. "I know he wants to get money and drive cars and deal with bad bitches, but I have no idea what he actually feels about the world."
Lyrically, Drake addresses the things everyone thinks about but may not verbalize: pressure, self-confidence, family, money, identity, change, relationships, ambition. His verses are largely devoid of social commentary. Instead, he focuses on introspection.
It creates a sense of intimacy, as fans think they know things about him. It's a large part of why people feel comfortable making Drake apps at all. Perhaps more importantly, it's the reason people flock to these apps. 
The majority of Drake apps are free. These developers don't appear to be in it for the riches. But as the meteoric rise of the Drizzy app illustrates, there's an enormous amount of non-monetary potential. Drake's fanbase is present and eager. Developers have recognized this, and are using it to launch their careers.
Not every artist has Drake's appeal. Plenty of artists use themselves as subject matter, but no one does it like Drake. 
"Drake is funny and doesn't take himself that seriously, which is partially why so many people enjoy him," Michael Arceneaux, a pop culture writer, told Mic. 
It all goes back to Drake's authenticity — his persona doesn't feel scripted. He really does seem like the kind of guy that would lint-roll his pants courtside or show up to Coachella with his Apple Watch matching his OVO tracksuit. It's corny, but it works, if only because Drake seems to be aware of how absurd he looks.
Arceneaux compared Drake to Taylor Swift, who's also revered for her confessional music and ironclad rule over the Internet in 2015. "I think Drake is bit more personable than [Taylor] is," Arceneaux argued. "Drake knows people troll him. In response, he often plays along and trolls people right back. She's sort of floating in the air, briefly stepping down to address her adoring public. Drake hears someone cracking a joke on the street and talks his shit right back. It's just different." 
While Drake's memeability has uncovered a nasty set of issues — his perceived "softness" or femininity, the attacks on his skin color — he seems to take it largely in stride. "Drake is amazingly savvy," Arceneaux said to Mic. "I think a lot of people do acknowledge how aware he is. He seems like someone who constantly checks his social media feeds like the rest of us do. And he does have a background in acting, so it's not totally surprising to see him be so willing to play along."
After all, he's riding high on this recognition. Drake understands Internet culture, and he's well aware that it only bolsters the image he's cultivating. "The Internet is obsessed with him because he's such an important pop culture figure at the moment," Arceneaux concluded. 
In today's world, Internet appeal is mainstream appeal. Proof: the astounding success of If You're Reading This It's Too Late. All 17 tracks from the mixtape, which dropped with no warning and was limited to a digital release, charted on Billboard's Hot R&B/Hip-Hop Songs. Just a week after its release, Drake became the first rapper to rank first on Billboard's Artist 100 ranking.
"Drake knows people troll him. In response, he often plays along and trolls people right back." 
When an artist has this kind of power and reach — to the point where people are dedicating time and energy to creating influential mobile apps and memes that revolve around his very being — that artist occupies a very anointed position indeed.
Update: June 11, 2015, 11:30 a.m.