30 Photos of Baltimore Solidarity Protests Sweeping the Nation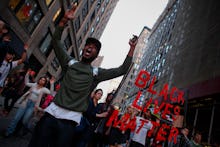 Thousands of people marched in solidarity with Baltimore in several major cities across the country on Wednesday night, including New York, Chicago, Minneapolis, Denver, San Diego, Boston and Washington, D.C. Hundreds were arrested, with more than 100 arrests in New York alone.
Baltimore has suffered a troubled week since the funeral of Freddie Gray, the 25-year-old black man in police custody who died from a spinal injury he didn't have before he was arrested, sparked peaceful marches and violent protests alike. 
The nation has been gripped by shocking images of protesters looting a CVS Pharmacy and setting it and a police car ablaze. National coverage of the city has been almost as controversial as the events on the ground. Media narratives have largely focused on the minority troublemakers, while eclipsing the tens of thousands who marched peacefully, and many have accused the media of racism. 
However, as these photos show, thousands of Americans all around the country have been taking to the streets to peacefully demonstrate and voice their dissatisfaction with the status quo. 
New York
Washington, D.C.
Chicago
Minneapolis 
Denver
San Diego
Boston