Watch This Baltimore Protester Completely Shut Down Geraldo Rivera and Fox News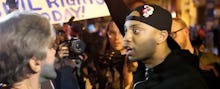 A protester in Baltimore, who Fox News reporter Geraldo Rivera described on television as a "vandal," gave the newsman the real story when the official cameras were turned off Tuesday night.
The protestor laid into Rivera about the national media's obsession with black rioting and criticized him for ignoring stories about Baltimore's poverty, and nonviolent protests which had also taken place in the city.
"You're here for the black riots that happened," said the man. "You're not here for the death of Freddie Gray,"
The man also took issue with the media representation of black people. In recent days, the word "thug" has been used as a racially charged euphemism to describe certain protesters. 
The man then brought home the bigger issue for Rivera and the national media.
The video offered stark and jarring context to a widely viewed encounter between the man and Geraldo which aired on Fox News. In the original Fox clip, the man can be seen blocking the camera as Geraldo attempted to "report" his story.
The protester's blunt analysis of the situation mirrored what others have said about a media obsessed with covering rioters and ignoring the city's largely peaceful demonstrators. In another contentious interview with Fox News, Baltimore City Councilman Nick Mosby also urged reporters at the network to focus on larger issues plaguing the city as the underlying causes which led to the death of Freddie Gray and the riots. 
"This can erupt anywhere in socially economically deprived America," Mosby said.
The Baltimore protests, which reached their height Monday night, subsided considerably throughout the week after a curfew was imposed and thousands of National Guard troops and police spread throughout the city. On Thursday, media attention shifted to protests around the country, including a major one in New York that left over 100 arrested.