Leon Bridges Just Proved He's the Next Soul Legend With This Amazing Song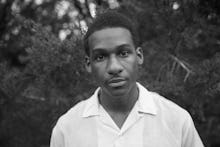 If you haven't heard of newcomer Leon Bridges, buckle up. The Texas-based songwriter is emerging as one of the most hyped new acts of the year, and his debut album, out June 23, is already one of this summer's most anticipated releases.
On Thursday morning, Bridges released a jaw-dropping song called "River" and proved exactly why he's about to be a legend. 
Just like Sam Cooke: Comparisons to soul legend Sam Cooke are practically unavoidable: The two have a similar aesthetic and eerily comparable vocal styles. But amazingly, Bridges hadn't even heard of the '60s soul legend until recently.
"I was mirroring certain styles of artists that I just wasn't aware of until after I would write a song," Bridges told DIY. "Then I would be like 'Oh, they're doing the same thing,' but I didn't know or notice. It was something that was always there, but I didn't realize it until I started tapping into it."
But since his introduction to Cooke, Bridges has begun paying closer attention to the legend and other Motown artists. "Despite having never really listened to soul music until college," American Songwriter wrote, "in a few short years Bridges has become a veteran modern practitioner of the genre's conventions and constraints."
He has a classic story, too. Just one year ago, Bridges was washing dishes and busing tables to make a living. The 26-year-old's rise to fame was swift and surprising — at least to him.
"It's been crazy, way faster than I expected," Bridges told the Minneapolis Star Tribune. "I knew I had a gift. I wanted the world to hear my music, and I wanted it to be my career, but I didn't know how to go about it."
He was discovered during his regular gig at a small bar in Fort Worth, Texas. The guitarist of another Texas-based band, White Denim, approached Bridges after his set and insisted that they make an album together. Bridges agreed, and went into the studio with White Denim's drummer and guitarist to record his upcoming debut album, Coming Home. 
Bridges is far more than just a novelty act, though. The expectations are soaring for the singer, who lists his biggest influences not as Sam Cooke and Ray Charles, but as Usher and Ginuwine. The local media in Fort Worth has taken to calling Bridges "The Truth," but the songwriter says the pressure isn't getting to him. 
"I'm ready," Bridges told the Star Tribune. "I think if I work hard, it'll go well. I've always had a great work ethic even when I was washing dishes. And obviously, this beats washing dishes."