This Teenager Survived 5 Days Under Rubble After the Massive Earthquake in Nepal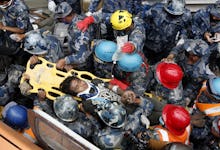 When the devastating 7.9-magnitude earthquake hit Nepal on Saturday, thousands of people were lost under mounds of rubble and many died. However, among all the tragedy, one amazing story has surfaced. 
During a six-hour international rescue mission Thursday in Kathmandu, a rescue team found Nepali teenager Pemba Tamang, who had survived after being buried under rubble for five days.
Crowds cheered as the boy was pulled from the rubble, and he appeared to be responsive, telling those who discovered him he was cold before they could actually retrieve Tamang; people immediately offered jackets and scarves to cover him while the recovery effort was underway. 
A Nepalese rescue team, USAID's Disaster Assistance Response Team and other international volunteers collaborated on the mission.
"He thanked me when I first approached him," police Officer L.B. Basnet, who reached Tamang by crawling through the rubble, told CBS. "He told me his name, his address and I gave him some water. I assured him we were near to him."
Nepalese rescue forces cheered after Tamang was pulled to safety.
He was taken to a nearby hospital, where he is reportedly recovering and in good condition.
Tamang's miraculous survival comes as much-needed good news for Nepal — the death toll as of Thursday passed 5,500, with numbers still rising. 
Another sign of hope and encouragement came Wednesday after a similar story surfaced, involving a 4-month-old's unlikely survival after being buried under rubble for at least 22 hours. 
Aftershocks and heavy rains have made recovery efforts difficult and have forced thousands in Nepal to sleep outside in harsh weather conditions. Nepalis are reportedly becoming increasingly frustrated and angry at the slow implementation of aid. More 8 million people have been affected and approximately 1.4 million people are in need of food aid. 
While stories of survival offer inspiration in an otherwise grim situation, it is important to contextualize these victories: Only 14 survivors have been saved from being buried under rubble. The international community must focus on the large-scale needs of the country and ensure they are met quickly before the devastation gets worse.