The Surprising Truth About Modern Masculinity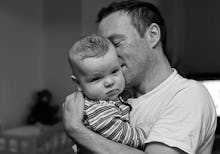 "There has never been a better time in history to be born female," Hillary Clinton boldly said last week. Though there's still plenty of work left to be done to achieve gender equality, events of the past year alone certainly support her assertion. But how has this progress affected men?
A report by A Woman's Nation, titled "The Shriver Report Snapshot: An Insight Into the 21st Century Man," sought to answer this question through a survey of American men over the age of 18. Their findings largely reveal that modern masculinity is complex and can't be stereotyped. Here are some of the survey's insights into what composes modern day masculinity. 
The encouraging:
Men value their familial roles more than ever before.
The majority of respondents (54%) said they value being a "present partner" over being a "provider," and the increase of women in the workforce is likely the source of this value — specifically, the fact that dual-earner couples have become the norm in the United States. Only one-third of American families are described as having a breadwinning father and homemaking mother, while both partners work in about 59% of married couples with children, according to the Center for American Progress.
They're embracing emotional intelligence.
Sixty-eight percent of men surveyed said "strong personal character and sense of integrity" were the most important markers of strength while only 11% most valued physical strength. Only 22% of American men said showing emotion is a sign of weakness. 
Again, we can likely thank feminism for this shift: Specifically, the push to end gender stereotypes. Feminists have argued for years that these stereotypes not only inhibit women but men as well, especially the masculine stereotype that maintains men should be emotionless. But men are recognizing their human right to fully express themselves. 
They prioritize feminist values for their daughters.
Sixty-six percent of men reported that they want independent daughters and would largely prefer that they are "principled" and "strong" rather than "sweet" or "attractive." Only 5% said they hoped their daughters would be homemakers and 2% wanted them to be "deferential." Perhaps this finding is linked to surveys that have found men are more involved fathers than ever before. By actually interacting with and caring for their daughters, men are logically concluding that their daughters should be treated the same as their sons — at home and in the world.
The concerning:
They're not so sure about women's increasing importance.
Thirty percent of heterosexual American men agree that "women taking on greater responsibility outside the home has a negative affect on the confidence of American men" and only 63% of men are "very comfortable" marrying or living with women who work. Furthermore, while the majority of men did rank intelligence as the quality they most desired in their wife, attractiveness was the second most important, and 34% of men wanted "sweet" wives.
The disparity between men's priorities in female mates as opposed to their daughters may be because, "For them, a wife is a reflection on you, while a daughter is an extension of you," as Tracy Moore astutely suggested on Jezebel. "If you're choosing a mate as most men would, based on (among other things) social approval, or the idea of the sort of wife you ought to have, you're going to go with the generic, culturally sanctioned option, i.e., 'sweet,' and 'attractive,' and not necessarily 'brilliant/ambitious hustler.'"
Men still don't take on more domestic responsibilities.
Only a third of men say they take on a greater share of household responsibilities like cooking and cleaning than their partners, and less than a quarter say they take on more parenting responsibilities, according to this report.
These stats are reflected in a 2014 Bureau of Labor Statistics report showing on a typical day, nearly half of women employed outside the home do housework while only 19% of men do. It's a reality that sociologist Arlie Hochschild deemed "the Second Shift" in her 1989 book of the same name — and one that clearly hasn't changed enough in the 26 years since she identified the problem. 
Ultimately, it's crucial that the beliefs and behaviors of all individuals are accounted for in the fight for gender equality — and that includes men. 
"We believe in a gender-respectful society and that requires the engagement, education and empowerment of all individuals," Maria Shriver, founder and chief visionary officer of A Woman's Nation, noted in a statement. "It is our hope that these new facts and this continued work of the Shriver Report Project will ignite open dialogue between men and women — over dinner tables and across boardrooms."