Wale Went to a High School in Baltimore to Tell the Kids One Important Thing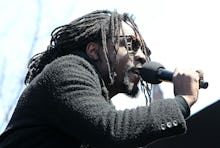 Wale didn't announce his visit to Baltimore with any fanfare. He came with a friend, the Rev. Jamal Bryant, who had delivered Freddie Gray's eulogy, and together they went to those who need encouragement the most: Baltimore's youth.
Wednesday was the first day Baltimore schools were reopened following the protests that sparked after Gray's death. Wale visited schools in the city to preach a message of positivity and hope. He encouraged students to keep the faith — because no matter how the media might portray them today, they are the leaders of tomorrow.
The media reaction to the Baltimore protests hasn't been positive. Often black participants are termed "thugs," and the media coverage is negatively coded toward black people. At Frederick Douglass High School, Wale told students he came first and foremost to listen. He let them vent their frustrations about the way the media has portrayed them and the way the police harass them. 
Wale offered anecdotes from his own life to show them they aren't alone. "I've been harassed by police," he told students, according to NPR. "And even in my state now, I'm a millionaire — they harass me regardless."
Dawn Kirstaetter, Baltimore's deputy mayor of the offices of health, human services, education and youth, was also present during Wale's visit at Fredrick Douglass, and she addressed what had become a "sore point" with many of Baltimore's youth, as NPR described it. On Monday, Baltimore Mayor Stephanie Rawlings-Blake called protesters "thugs," feeding into that racially coded history of the word being a shorthand pejorative to describe black criminality.
Kirstaetter apologized on behalf of Rawlings-Blake. "She has pulled back from that word," Kirstaetter said. "And I want you to know she knows that you all are kings and queens in our future."
The message: Wale attempted to communicate that words like "thug" and "hoodlum" should not affect kids' confidence as they create positive change within their communities.
"It's about us. And no matter what nobody says to you — it could be your peer, somebody on television, it could be the president of the United States — it's about how you perceive yourself and how you hold yourself down," Wale told Good Day D.C. "And we all brothers and sisters in here right now, and we're going to get it together."
Wale even took this message to other schools in the Baltimore area.
It was a brilliant move for the artist and a powerful use of his platform. The youth of Baltimore need to know  people support them and believe in them. They are not thugs. They are the voices our country needs.
h/t Uproxx