This 19-Year-Old Saved 55 Orphans During the Devastating Earthquake in Nepal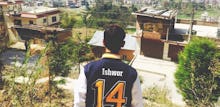 Just before the earthquake struck Nepal on Saturday, Ishwor Ghimire was having lunch at the Nepal Deprived Women and Children Upliftment Center orphanage in Kathmandu. 
As the earth began to shake beneath him, 19-year-old Ghimire immediately sprung to action. Minutes later, he emerged as one of the country's many heroes: Out of the destroyed orphanage, he led 55 children to safety. 
"All the kids were so panic[ked] and started screaming and crying," Ghimire told Mic in a Facebook message. "I asked everybody to get out from the building."  
Ghimire wrote on Facebook that all the children and workers were alive and safe. He personally carried a number of the smaller orphans, who range in age from 4 to 16, to a flat vegetable patch outside. 
"The earth was still shaking but I was running here and there to rescue all the kids and take them to the safety place," he told Mic. 
According to Ghimire, the kids initially took shelter in a small church after the earthquake, but have since been relocated to a makeshift shelter with a plastic covering which he helped build for them. "Kind [of] a tent," he told Mic. "But it doesn't keeps us warm."
The only thing more remarkable than Ghimire's heroism may be his own life story. An orphan himself, he came to the facility when he was 4, and over time assumed the role of the older brother to the younger orphans there. He attended Australia's Pulteney Grammar School on a scholarship in 2013, and today, Ghimire mentors other young orphans while he prepares to attend university.
Ghimire's story is remarkable but not isolated. The tragedy inspired a series of small miracles, including the story of a 4-month-old baby who was pulled from the rubble alive in Kathmandu after spending at least 22 hours buried. Pemba Tamang, who is 15 years old, was successfully rescued after spending five days beneath the rubble. 
The tragedy has stirred a deep pool of generosity from the international community. In less than a week, an Indiegogo page has raised more than $300,000 for relief efforts, while Facebook has been asking its users to donate funds to the International Medical Corps and promised to match every dollar up to $2 million.
But for Ghimire, the money can't come fast enough. The orphanage and school are eager to rebuild but do not have the funds.
"They aren't back in the school yet because the orphanage building is cracked everywhere and is very risky and dangerous to go inside and sleep in," Ghimire told Mic.
To support their alumnus in need, Pulteney has taken an active effort to raise money for reconstruction, including linking people on its website to this GoFundMe page to support the cause.
Ghimire's story is only a small part of the enormous amount of work that remains to be done to bring life back to normal for the country's residents. The international community has admirably rallied in support of Nepal, but the true test of that spirit can only come after the cameras are gone.