If Dad Bods Are a Trend, Where Are the "Mom Bods"?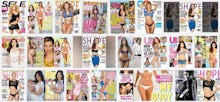 It's raining beer bellies, elastic waistbands and oversized polos on Twitter, as the Internet whips itself into a overexcited frenzy over the latest body "trend": the Dad Bod.
Seemingly prompted by an essay written by Clemson University student Mackenzie Pearson, the sudden interest in the "Dad Bod" has taken several forms. Its definition, as Pearson explained it, is fairly straightforward:
"The dad bod says, 'I go to the gym occasionally, but I also drink heavily on the weekends and enjoy eating eight slices of pizza at a time.' It's not an overweight guy, but it isn't one with washboard abs, either."
The catch, Pearson claims, is that this "bod" is actually particularly attractive to women (or at least college girls):
"Turns out skipping the gym for a few brews last Thursday after class turned out to be in their favor. While we all love a sculpted guy, there is just something about the dad bod that makes boys seem more human, natural and attractive."
Wait, really? More attractive? The female staffers at New York's The Cut weighed in and pointed out that, yes, men with softer, rounder, less chiseled — i.e., more human — bodies are appealing in that they lower the physical expectations and pressures for both members of a couple. "A dadbod makes me think we could eat pizza in bed together and never feel guilty or judge one another," mused writer Allison Davis.
But let's be honest: Plenty of women, if given the chance, would find themselves drawn to chiseled abs, sculpted arms and a strong jaw. Enthusiastically embracing the Dad Bod is giving men a pass that women simply do not get.
Take the paradigmatic Dad Bod hunk, Chris Pratt. As Andy on Parks and Recreation, the actor was what some have described as a "cute, soft, comedy cherub." "Lovably dopey" and easily hugged, Pratt held his own unique appeal. But when he shed tens of pounds, bulked up and unveiled rock-hard abs in preparation for the movie Zero Dark Thirty, lo and behold, everyone perked up. "Chris Pratt in His Underwear, Shows Off Hot Navy SEAL Body," celeb gossip sites crowed about Chris 2.0. The message was pretty darn clear: THAT is what an attractive man looks like.
But most men can get by just fine being Chris 1.0, with soft bellies and undefined muscles. In fact, they can even use those bodies to land beautiful women, as decades of TV sitcoms have taught us. "It's a family sitcom tradition that spouses are ill-matched looks-wise," Matt Feeney wrote in Slate, commenting on the 2005 TV landscape. "Several shows pair extremely attractive women, who are often clad in plunging tops and tight jeans suitable for a Maxim photo spread, with TV husbands who are not only not studly, but downright fat."
And this was four years before Modern Family introduced us to Sofia Vergara.
Men's "curves" are endearing and comforting. Men can, as the New York Times observed in a 2009 trend piece on the male gut, "happily and guiltlessly go to seed." Women, on the other hand? They find it nearly impossible to get away with being soft and curvy or (God forbid) having a gut.
Case in point: Mom Bods? Not a thing. The phrase "mom bod" conjures up images of what media so kindly calls a "post-baby body." Women whose postnatal bodies betray essentially no sign of childbirth whatsoever are praised for their figures. Those whose physiques actually reveal that they recently contained a baby? That's what we might call a Mom Bod, and it's not something women are praised for.
In fact, they're often shamed or reprimanded for it. Just two weeks ago, mother Hannah Moore posted a photo to Instagram showcasing her pregnancy stretch marks. "It was me letting people know this is who I am. I'm big and I'm loved and I'm beautiful," she told People, explaining why she proudly shared the picture.
Instagram deleted it, just as they've deleted other photos by women baring their normal, non-model bodies.
Pearson's "Why Girls Love The Dad Bod" article isn't a well-researched investigation into beauty standards, nor is it a serious piece of cultural commentary that we should spend too much time debating before the next Internet "trend" lights up on Twitter.
But even as the "Dad Bod" conversation fades out, we can bet the principle underlying it will stick around. Men are given plenty of space (and waistline) to reject societal standards of beauty. Women? Not so much.