The Dark Side of the Mayweather Fight You Probably Won't See on TV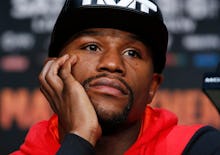 On Saturday, boxers Floyd Mayweather and Manny Pacquiao are scheduled to battle it out at the MGM Grand Garden Arena in Las Vegas in one of the most highly anticipated boxing matches in years. The negotiations have reportedly taken six years between these two champions, who are facing off for the first time, with an estimated payout of $150 million for Mayweather and $100 million for Pacquiao. 
But amid the frenzy of media coverage leading up to the fight and what's sure to be plenty of commentary during the bout itself, one storyline has been sadly underreported: Mayweather's dark history of systematically committing domestic abuse, largely with impunity.
The police report: As far back as 2002, Mayweather began to find himself running into the law with charges of domestic violence. The most telling piece of evidence may be a handwritten police report by Mayweather's son, Koraun, from Sept. 9, 2010, regarding the night Mayweather beat Koraun's mother. In his own words and scribbled writing, Mayweather's then-10-year-old son recounted the events of the night. 
"I saw my dad was on my mom and my mom said go the ofice [sic] my dad was hiting [sic] her," Koraun wrote.
The boy describes a harrowing scene. "I heard yelling and I came out and my dad was hiting [sic] my mom....then I heard my mom runing [sic] to the gate then the seacarty [security] let her in." The full report is below:
This is far from a rare occurrence. Mayweather has been charged with domestic violence on six separate occasions, convicted on five of those charges and has only served two months in prison, never receiving any penalties from the Nevada Athletic Commission regarding his professional boxing career. In fact, an unfortunately large amount of media coverage has made little mention of this checkered past, instead preferring to focus on his extreme wealth and exorbitant lifestyle. 
When he is confronted with these kinds of questions, Mayweather has become an expert at dodging them or avoiding substantial answers. ESPN's Outside the Lines aired a segment last week on the boxer where the reporter specifically questioned Mayweather on his history of domestic abuse.
The reporter doubled down and continued to question Mayweather, saying, "There are a lot of people who wonder why you should be allowed to continue to box in the highest profile events when you've got the track record that you have, when in other sports there have been serious repercussions for some of these athletes." But Mayweather stood strong, responding:
Sponsors' complicity. Despite his egregious track record, he is seemingly impervious when it comes to support from fans and sponsors alike. None of this has resulted in major sponsors pulling their names from Mayweather's fight. MGM, Showtime and HBO have all signed record-breaking contracts for Saturday's match, and FanDuel, the only brand to be featured on his shorts, has made no mention of withdrawing its sponsorship either.  
"Of course FanDuel doesn't condone any of Floyd's prior incidents," a FanDuel spokeswoman said, according to AP. "But as a sports entertainment company we will be front and center at one of the biggest sporting events in the history of boxing."
Sadly, it's not uncommon for companies to continue sponsoring athletes after reprehensible acts or even convictions. The NFL, for example, has an epidemic of domestic violence among its players, and not enough has been done to penalize the perpetrators. "A report by former FBI Director Robert Mueller says the NFL did not do a good enough job examining assault claims against Ray Rice," NBC reports. 
Despite these failings, it hasn't stopped major corporations from brokering multimillion-dollar deals with the league, nor has it stopped big musical artists from performing during the Super Bowl halftime.
This raises the larger question of whether or not the wealthy play by a different set of rules. 
Does money buy immunity? Very often, yes. The examples can be found on practically every scale. Take, for example, Alice Walton, the Wal-Mart heiress who's repeatedly broken the law without ever marking her record, avoiding even a ticket after killing a cannery worker she hit with her car.
Mayweather's morally reprehensible, not to mention illegal, behavior doesn't seem to have infringed on his life much, either. His reported net worth of $280 million dollars should be evidence enough, not to mention his legal impunity and the way he's often celebrated in the media.
There have been some calls to boycott the match in an online pledge, which is joining in the struggle to hold domestic abusers accountable. But coverage of the darker side of his life continues to pale in comparison to that of his professional life. While it's easy to get swept away by the razzmatazz of such a high profile event, it might be worth re-evaluating if Mayweather's behavior (read: domestic abuse) should be rewarded and whether or not it's worth watching the match.