Eminem's Record Label Is Ruining Great Rappers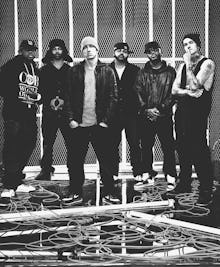 Last Tuesday, Eminem's Shady Records dropped its latest album, Yelawolf's Love Story. Fans were hoping for a return to the Alabama rapper's whiskey-drenched theatrics and unapologetically bold lyricism. His recent mixtapes hinted at that direction. But what fans got instead was an hour and 14 minutes of trashy beats, overproduced ballads and similes written for a kindergarten audience. There were a lot of lines like: "Yellin' redneck, you about as red as the color blue is."
It may seem that the once-promising young Southern rapper has lost his way. But it isn't his fault. Unfortunately, Love Story is exactly the kind of dud that Shady Record label puts out routinely. Though Eminem may claim he's "best friends" with the extraordinary rappers on his label and has their best interests at heart, his label has a now well-established history of taking solid artists and turning them into lifeless, filler-heavy radio hip-hop.
Shady Records has a knack for finding artists — real rappers like Yelawolf, Joe Budden, Joel Ortiz and the rest of Slaughterhouse gang. These are emerging artists like Eminem once was — hungry and harsh. Yet his label turns them all into sad replicas of late-career Eminem. It hypes them up, promising audiences more of their gritty, hard-hitting hip-hop, though on a much bigger scale, and then completely disappoints on all fronts. The resulting songs come out sounding compromised and corporate.
Yelawolf is a classic example. He got his start rapping wicked Alabama backwoods, drug-cooking stories on a killer mixtape, Trunk Muzik. He went through a tenure on Columbia Records, which dropped him before he put out a studio release of unique material. Shady picked him up in 2011, but the label ended poisoning up his debut album with its pop radio imperatives. His output still hasn't recovered.
On Love Story, Yelawolf's brand of sinister, bluegrass-infused chaos manages to shine through the folksiness of tracks like "'Til It's Gone." But the rest of it throws every kitschy songwriting convention out there at the wall to see what sticks — from guitar pop to bro country and even disco throwbacks. It sounds depressingly like a latter-day Eminem release.
In fact, the only Yelawolf release that's been worth listening to in recent years is a mixtape, Trunk Muzik Returns, in which Yelawolf specifically apologizes for the audience-alienating pop concessions he made on Radioactive. 
It seems so simple in verse, but talking his Shady label troubles in real life gets far more complicated. "I don't know what the f*ck they're doing up there," Yelawolf said in a 2012 interview. "Shady's great, I love Shady Records man, I just think there's some shit going on upstairs, but I don't know what the f*ck's going on, back to Trunk Muzik."
On that record, he rapped, "So Radioactive had a couple of radio attempts, but I don't wanna be radioactive anymore now." This was on "Rhyme Room," alongside Raekwon and Killer Mike. "You ain't gotta tell me that I made a mistake and some of that shit was lame."
Judging by his new record, though, nothing has changed.
He's not alone though. Slaughterhouse — the rap supergroup made up of Royce Da 5'9", Joe Budden, Crooked I and Joell Ortiz —  has suffered the same fate. Each of the rappers came up through the mixtape scene, with Crooked I and Joell Ortiz both dropping out of Aftermath deals when their debuts were repeatedly backburnered for higher profile releases. Then Joe Budden invited the other three to rap on a track called "Slaughterhouse." It was a revelation — seven minutes of hardcore rhymes over an intense, mind-numbing beat. The song had such a competitive, dynamic feel that they decided to form a group to give their rhymes the hype they deserved. Eminem's label saw their promise.
However, the first self-titled album they dropped was uncomfortably sleek for the grimy, battle-driven hip-hop that had been promised. "Slaughterhouse's beats are towering, but in a way that's monolithic, charmless, and corporate, like a gleaming office building," Ian Cohen wrote for Pitchfork.
It's clear that this lifelessness was the label's influence. The group's mixtapes haven't had to include any Skylar Gray or Bruno Mars hooks. And as a result, they have consistently been stronger than their Shady-backed LP offerings. Hip-Hop DX's Omar Burgess acknowledged this on his review of the most recent Slaughterhouse tape, House Rules, prompting the dreaded question: "Is the industry in a place where it matters that these guys can still rap their asses off? Will they be given the creative control to do so, or will the nature of their Shady partnership mean attempting to employ their considerable skills in the service of trying to make a hit?"
That is the tragic irony of Shady Records — they know good artists when they see them, but they have no idea how to leave those artists alone.
Ultimately, each of the Shady rappers' records have suffered in the same way Eminem's own releases have. 2010's Recovery and 2013's Marshall Mathers LP 2 each had a one or two successful radio tunes, one or two devilishly rap-heavy tracks and a gluttonous amount of poppy filler. His new music is consistently maximized for commercial appeal with minimal attention to making a cohesive album experience or developing artist narrative. And just like the other rappers on his label, Eminem wasn't always like that, either. He shouldn't be subjecting other promising artists to the same treatment.