4 Unforgettable Moments From Janet Mock's Must-Watch Interview With Oprah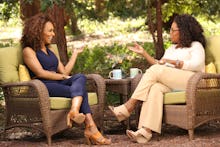 Janet Mock brought her "realness" to the season finale of Super Soul Sunday on OWN on Sunday. In her first interview with Oprah, the New York Times bestselling author, MSNBC host and transgender activist talked candidly about gender identity and living her truth in a way that honors the complexity of life — and in doing so, proved why she's become such a powerful voice for women everywhere.
Early in the interview, the 31-year-old Redefining Realness author used the word "othering" to explain how identity works in contemporary Western culture. "I was constantly, as a person, going through this society trying to figure out who I was in relation to what people were telling me I should be," she told Oprah. 
Mock also told Oprah about her experience digging through the morass of othering to find her "authentic self."
After moving from Hawaii in 2005 to study journalism at New York University, at first Mock was determined to try to live beyond her trans identity, because she did not want to be marginalized or discriminated against. She later publicly came out as trans in a 2011 Marie Claire piece, and since then has become a preeminent trans activist — something that caused some trepidation. 
For one thing, as she explains in Redefining Realness, there is no single, universal trans narrative, so it is impossible to be the one representative of the trans community. "On the one hand, there are through lines, common elements in our journeys as trans women, that are undeniable," she writes. "At the same time, plugging people into the 'transition' narrative (which I have been subjected to) erases the nuance of experience, the murkiness of identity and the undeniable influence of race, class and gender."
During the interview, she spoke to Oprah about this experience of embodying multiple identities, and feeling powerful and strong for doing so:
Mock ultimately, proudly declared her intention to live her truth, and embrace every part of herself:
The interview proved Mock is a powerful feminist voice for all women — black or white, cis or trans.