The Other Man in the Van With Freddie Gray Has Broken His Silence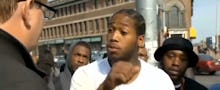 The passenger inside the police van with Freddie Gray, the 25-year-old black man who died April 19 in the custody of the Baltimore Police Department, is speaking out after initial reports indicated he heard Gray "trying to injure himself" after Gray's arrest on April 12. Now, however, in an interview with WJZ Baltimore, Donta Allen is saying that was far from the truth.
According to Allen, the trip was mostly quiet, and all he heard was "a little banging."
When pressed by the reporter, Allen asked everyone what should have been this obvious question:
Allen also noted that he was only speaking out because of the misinformation that had been surrounding the case and his involvement in it.
The death of Freddie Gray while in police custody on April 19 continues to be an open wound for the city of Baltimore. After protests and riots erupted Monday, thousands of police and National Guard soldiers were called in to maintain order in the city. The week also saw other protests around the country in solidarity, including in New York City, where more than 100 demonstrators were arrested.
Allen's alleged comments to investigators were leaked to the Washington Post just days before Baltimore police were set to release an official report into the causes of Gray's death. On Thursday, police Commissioner Anthony Batts announced the department had handed over the results of the investigation to a state prosecutor. 
If the leak is any indication of what the final report might say, it is unlikely to resolve many of the case's lingering grievances. An internal investigation that attempts to exonerate the investigators might only make things worse.
Watch the full interview below: