Watch Jennifer Lopez Perform an Amazingly Touching Tribute to Latin Music Legend Selena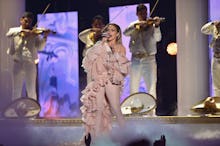 Twenty years after her untimely death, Selena never really left — thanks to Latin artists like Jennifer Lopez, her legacy lives on. Lopez performed a tribute to Selena at the Billboard Latin Music Awards on Thursday night, and the stunning medley had the crowd in tears. For one of her three outfit changes, Lopez wore Selena's signature high-waisted jeans and bejeweled crop top. And she performed with Selena's family band, Los Dinos.
The tribute was a touching reminder of just how influential the Latin singer was:
Lopez credits Selena as an integral inspiration for her as a performer. When Lopez played her idol in the 1997 biopic, Selena, she said it transformed her career. 
"For me as an actress, at that moment I had learned how to really become a performer and give everything I had to the audience," Lopez told Billboard. 
And Selena's legacy extends beyond performing. She was a crossover success in an industry that historically struggles to find its footing in English-language markets. Her posthumous album, Dreaming of You, hit No. 1 on the Billboard 200, an accomplishment that was a first for a Latina. 
Selena's influence has recently manifested itself in strange ways. Her family announced in early April that they would launch a crowdfunding campaign to build a Selena hologram. Thus far, the campaign hasn't raised nearly enough money to hit its $500,000 goal, but it remains a testament to our inability to let the beloved star go. 
Selena remains a transformative figure in not only Latin music, but also in the international musical landscape. 
"People like that don't come along every day," Lopez recently told Billboard. "There is never going to be another Selena."