In One Quote, Morgan Freeman Said What Everyone's Thinking About TV Coverage of Baltimore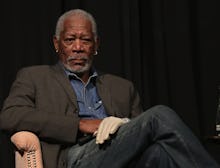 For many, this week's mainstream media coverage of Baltimore has left a sour taste. Various observers noted that news cameras and reporters became so obsessed with the riots that they forgot to paint the full picture of a troublesome history of police violence in Baltimore. 
Leave it to Morgan Freeman to succinctly characterize those frustrations. In a recent interview with the Daily Beast, the actor succinctly voiced his exasperation with news coverage this week, and in doing so echoed the sentiments of many. First, Freeman posed one simple question: Where were all the cameras before the situation escalated into riots?
"People are saying, 'You were not all there when we were just talking and trying to make a point, but if we set something on fire, all of a sudden you're all here. Why is that? What's the difference?'" he asked.
"Fuck the media."
A big problem in news coverage: News preoccupation with things like property damage diverts attention from the underlying conditions that caused them in the first place, and has misrepresented the situation in Baltimore as one characterized by chaos rather than frustration about an ongoing issue. What's more, community members have united in organizing peaceful demonstrations related to Freddie Gray's death and the aftermath in the city — images of which weren't being shown nearly enough in mainstream coverage. 
With officers in the cases of Michael Brown, Eric Garner, Tamir Rice and Rekia Boyd all getting off the hook for killing unarmed black civilians, there's also a palpable fear about Gray's case following in the same trajectory. But that wouldn't be apparent from simply getting one's information from cable news stations transmitting nonstop images of the rioting. 
Freeman also chided these networks for prioritizing detached commentary above reporting about the conditions being roundly condemned by protestors. Between station guests' attempts to blame single-parent homes for raising children who riot to anchors defending racially loaded language such as the use of the word "thug" to describe demonstrators, the news failed to capture the reality of what has led to the situation in Baltimore.
"Look at MSNBC, Fox News and CNN. Go between those three. There's a take, there's a take and there's a take. It's just commentary," Freeman told the Daily Beast. "CNN wants to be pure news, but the others are just commentary. They're just commenting on things."
These frustrations run deep. As Mic noted before, one protester in Baltimore recently challenged Fox News' Geraldo Rivera off camera after the reporter described him as a "vandal." 
"You're here for the black riots that happened," the protester said. "You're not here for the death of Freddie Gray."
Thanks to Freeman for summing up what so many have been thinking. Check out the full interview here.