17 Dramatic Photos Show the Violent May Day Protests That Rocked Istanbul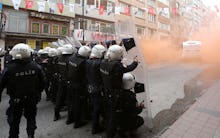 Water cannons and tear gas were turned on Turkish May Day protesters, most of whom were peaceful, in Istanbul on Friday after demonstrators disobeyed a ban on the city's central place of protest, Taksim Square.
Turkish protesters came out in thousands for the annual May Day rally marking International Workers' Day, but the demonstration was also an opportunity for many to express frustration with the government's tightening grip on pluralism and the Islamization of the country in recent years. Civil unrest has become frequent in response to the increasingly autocratic ruling Justice and Development Party.
In another display of the government's insecurity, Reuters reported, the city was preemptively put on "security lockdown" to avoid protests. In what many see as a disproportionate reaction, 10,000 police mobilized in response to the estimated 2,000 people protesting in Istanbul.
"The police claim they used these measures against a small group of masked men, but they later used it on the rest of the group which was peacefully demonstrating," Al-Jazeera's Can Hasasu reported.
President Recep Tayyip Erdogan and his party have only intensified their political grip in the run-up to the June 7 elections, which has further antagonized many citizens. "He is aiming for a massive victory for the party in the forthcoming parliamentary polls, which would allow it to change the constitution and give him broad presidential powers," the Guardian explains.
Take a look below: