9 Portraits of Marvel Super Fans Shatter Stereotypes of Comic Book Nerds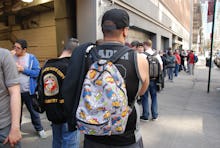 Strung together, the Marvel Cinematic Universe is now nearly 24 hours long, not counting its connected TV shows, Netflix series and one-shot short films. On Wednesday, AMC Theaters screened all 10 Marvel movies in four theaters around the country, from 2008's breakout Iron Man to last summer's Guardians of the Galaxy, followed by a 3-D premiere of the newest venture, Avengers: Age of Ultron.
Fans flocked to the New York screening from as far away as Canada and California for a chance to enjoy this shared fictional universe together. Some arrived in costume, while others brought blankets and pillows. Several had done half of this marathon in theaters before, when writer and director Joss Whedon's The Avengers became the third highest grossing movie of all time. Presales for Age of Ultron on Tuesday were nearly four times that of The Avengers, according to Deadline.
All that is thanks to the fans, and there are none like super-fans. "If there wasn't a group like this, there probably wouldn't even be the movies to begin with," said Steven, a theater tech professional, as he waited in line on Wednesday. Mic spoke with some of the people whose love for these films prompted them to spend two whole days watching them back-to-back. They come from all walks of life, from students to health care professionals to a city worker who helps hurricane victims. For them, the movies represent great storytelling, great characters and a community that loves to love the same thing.
"It's just like you're reading a book, and you're following this character through their journey," said Ann, who had come from Toronto for the event. "Just because they have super powers does not make them any less human."
The front-of-the-liners
King, 37, arrived from New Jersey at 10 a.m. Wednesday and found himself first in line. Anicia, 25, came about half an hour later. The marathon began at 6 p.m. Her strategy for making it through to the end involved a little help from the outside: a sister who works at Starbucks. "She has to bring me a triple shot of something to keep me awake," she said.
"I just can't imagine sleeping through explosions and car chases," said King. He had come for the full dose of the Marvel experience: "The excitement, the energy, the stories are awesome, the fact that they all connect, that's just amazing."
The family
Brothers Nick, 16, and Colby, 12, came from Queens with their dad, Joe, as part of a new family tradition. "School thinks that they're under the weather, but they'll recover by Friday," said Joe. "We did the first [marathon], we wanted to do the second one and when there's a third one, I'll go with my grandkids."
"They're gonna put me in a nice nursing home," Joe said. "That's what I'm hoping for."
The actress
"It just seemed like a really fun thing to do, something to tell people in the future, like, yeah, I did a 24-hour marathon straight through," said Estela, 22. She mentioned her love of Captain America's fight scenes and the character's sense of honor. "[My boyfriend] wants me to say he's hot, but..."
Her boyfriend, waiting in line with her, broke in: "No, I will say it's because he's hot. I'm just saying, if Chris Evans was like, 'Alex...' I'd be like, 'Dammit, fine.'"
The bartender
"I. Love. Marvel," said Alexy, 25. "They get it right. They have the best formula for movies. I love the way their characters evolve and interact with things. I've been a comic book fan since I was a kid, so this is just a dream come through to see all this stuff just happen."
This was his second Marvel marathon; he described the first, which clocked in at only 12 hours back in 2012, as "epic and painful and awesome."
The Canadians
Daniel and Ann, both 19, took a 12-hour bus ride from Toronto and came right to the theater. It was Ann's first trip to the United States. "When I first saw the first Avengers trailer, I was like, 'Oh, this is so cute, all the comic book fans are going to get their own movie,'" she told Mic. "And now I'm so into it; it's such a big thing for me. I've been to all the first day openings of all the movies, so for me it's a big part of my life." 
The Marvel films mean more to her than entertainment, though. "I decided to become a production designer because of all the amazing costumes that getting into the movies got me to see," she said.
The attorney
"I think that there's a certain stereotype or perception about people who read comics," said Deborah, 42, an attorney. "They're very introverted, anti-social, geeky, nerdy, socially awkward, and that's not the case. You'd be surprised how so many people of all walks of life read comics."
Her expectations for the day-plus-long experiences? "Pray that I make the 26 hours, and hopefully that second Avengers better be good, 'cause I didn't wait 26 hours to see a bad movie!"
The Captains
Steven, 33, left, tried to get to the Los Angeles Marvel marathon closer to his home of Riverside, California, but it sold out before he could buy tickets. "I flew out here last night and got here in the morning, and so now I'm here," he said. "After the marathon's over, seeing Age of Ultron, I'll be taking a flight back."
Kyle, 22, came to New York from Minnesota for "the grand experience" of the marathon. "Just being in New York, a lot of the superheroes have a home base in New York or do a lot of stuff in New York," he said. "I just think it's super cool. How can you beat it, right?"
The marathoners
Richard and Jaliyl are movie marathon junkies. "When The Dark Knight Rises came out, I did the trilogy marathon at IMAX, and ever since that, we said we were going to be doing marathons from now on for every movie," said Richard.
Jaliyl, who works at a movie theater, knows how stressful they can be for the staff — since Jon Favreau introduced a brief but crucial universe-expanding scene at the end of the first Iron Man, the Marvel films have trained people to stay through the credits for any movie, hoping for extra scenes. "Thank you, Joss Whedon," he said.
The proud
Kevin, 32, and Caitlin, 23, drove up from Northern Virginia for the marathon. He describes himself as a comics fan: His son is named after an X-Men villain, and his car's license plate spells "Ultron," the name of Age of Ultron's villain. "I've had the license plate for seven years now, and this is the first people are noticing it," he said.
"I think everybody has nerd in them," said Caitlin, a nurse technician. "I've never met anybody who's not into anything. You've got to support it! Be proud of who you are."