Beyoncé Just Took a Bold Stand for Civil Rights in Baltimore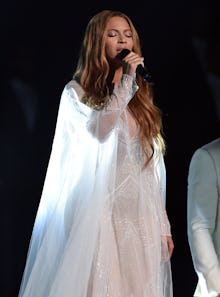 "People are hurting," Beyoncé wrote Thursday night in an Instagram post of a young man clothed in a black-and-white American flag with "Freddie Gray" written between the stripes. The post also linked to an NAACP donation page with a request to the singer's 31.1 million followers to join her in supporting relief efforts "to provide housing, food and supplies to those affected by the unrest in Baltimore."
The Queen has taken a stand for Baltimore. Hopefully, other cultural leaders aren't far behind.
Beyoncé also shared a video that shows a photograph from the 1968 Baltimore riots morphing into the current Time magazine cover, showing a strikingly similar photograph of this week's protests. The headline reads: "What has changed. What hasn't."
She didn't stop there, though. Each of the top four pictures on her website are snapshots from Baltimore. And each links to the same NAACP donation page.
It's a bold stance, but not an unexpected one from the Queen. She has actively campaigned for several charity causes in the past. In July, Mic wrote that Beyoncé had donated $7 million of her own money over five years to build a housing complex for the homeless in her hometown of Houston. 
Beyoncé didn't even announce the news herself — her pastor, Rev. Rudy Rasmus, revealed it in an interview with KHOU, in which he also shared that the Queen had donated millions to his church.
"She is an incredible human being, has an incredible heart, and has been extremely helpful in our ministry and our mission here," Rasmus told KHOU. "She has a global platform and is doing some amazing work. I'm glad she's a friend of mine."
Beyoncé has used that global platform to support countless other causes, including  World Humanitarian Day, raising money for at-risk children in Baltimore and other cities, encouraging fans to sign petitions honoring the memory of Trayvon Martin and many other charities.
Beyoncé understands the power she has as a cultural leader, and she knows how to use it. Her latest actions will undoubtedly provide huge new visibility for the NAACP's cleanup and organizing efforts to heal the city and forward the cause. She isn't the only musician taking a stand, but we need everyone to join her in this endeavor.