Breaking: Criminal Charges to be Filed Against Police Officers in Freddie Gray Case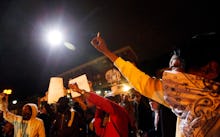 Maryland State Attorney Marilyn J. Mosby announced Friday morning that Freddie Gray's death at the hands of Baltimore police was a homicide, and that criminal charges will be filed against 6 police officers involved.
"The findings of our comprehensive, thorough and independent investigation, coupled with the medical examiner's determination that Mr. Gray's death was a homicide, which we received today, has led us to believe that we have probable cause to file criminal charges," she said at a press conference.
"A warrant has been issued for their arrest."
While six officers are being charged with various crimes in the case, not all were directly responsible for Gray's death, according to Mosby. They were all "diligent in the case," the AP reports.
Among the charges to be levied include involuntary manslaughter, assault in the second degree, misconduct in office and false imprisonment. 
Officer Caesar R. Goodson Jr.
Officer William G. Porter
Lt. Brian W. Rice
Officer Edward M. Nero
Officer Garrett E. Miller
Sgt. Alicia D. White
*Any sentence that does not constitute cruel and unusual punishment.
Mosby also noted the three officers who originally detained Gray on April 12 had made an illegal arrest.
"No crime had been committed by Mr. Gray," said Mosby, who also said that the knife Gray had been carrying while apprehended was legal under Maryland law. 
After the initial arrest, the officers broke other laws including failure to secure Gray with a seatbelt, generally mistreating Gray in the ensuing car ride and ignoring his "obvious and recognized" need for medical care.
Some were considering the case and press conference to be the first big test for the 35-year-old newly elected state's attorney. Though some were initially speculating Friday's press conference would not not reveal much information, the roughly 15-minute event explained, in great detail, much of Mosby and her team's strategy of investigation, laid out what they believed to be the series of incidents from Gray's arrest to his death and spelled out the clear plans to indict the officers with charges that could send several of them to prison for many years.
Gray's death on April 19 while in police custody sparked protests and riots in Baltimore on Monday. Marches in solidarity have broken out around the country with over 100 arrests reported in New York.