Meet Marilyn Mosby, the Badass Female State's Attorney Bringing Justice for Freddie Gray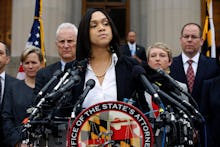 All eyes are on Maryland State Attorney Marilyn J. Mosby, who announced at a press conference Friday that the six officers involved in the April 19 death of Freddie Gray would face criminal charges. 35-year-old Mosby, only four months into her role as state attorney, powerfully articulated that police brutality would not be tolerated and that she would seek justice on Gray's behalf.
Mosby's November 2014 election was a turning point in the struggle to hold police officers accountable for brutality against black men. Mosby, a young, black woman, defeated white incumbent Gregg Bernstein in a Democratic primary largely on a promise to rein in police violence, the Associated Press reported.  
Those familiar with Mosby's work said the Gray case would be in good hands.
"Let me tell you something, this woman does not play," Russell Barnes, father of a murdered rape victim whose case Mosby is prosecuting, told Mic. "She'll do what she says she's gonna do. I just love her." 
Barnes' confidence gives added weight to a series of knockout statements Mosby made during Friday's press conference. Here are eight lines from the presser that embody Mosby's priorities and demonstrate how committed she is to bringing justice to Freddie Gray and all of Baltimore.
1. Mosby will not put anybody above the law. 
"I need to express, publicly, my deepest sympathies for the family of the loved ones of Mr. Freddie Gray. I had the opportunity to meet with Mr. Gray's family to discuss some of the details of the case [...] I assured his family that no one is above the law and that I would pursue justice on their behalf."
2. Mosby is committed to justice.
"As the city's chief prosecutor, I have been sworn to uphold justice and to treat every individual within the jurisdiction of Baltimore city equally and fairly under the law. I take this oath seriously."  
3. Mosby didn't cut any corners.
"My team worked around the clock, 12- and 14-hour days, to canvass and interview dozens of witnesses, view numerous hours of video footage, repeatedly reviewed and listen to hours of police video tape statements, surveyed the route, reviewed voluminous medical records, and we leveraged the information made available to us by the police department, the community and the family of Mr. Gray." 
4. Mosby understands young people.
"To the youth of this city: I will seek justice on your behalf. This is a moment. This is your moment. Let's ensure that we have peaceful and productive rallies that will develop structural and systemic changes for generations to come. You're at the forefront of this cause. As young people, our time is now."
5.  She also understands people's frustrations.
"I have heard your call for no justice, no peace. But your peace is needed as I work to deliver justice on behalf of this young man. To those that are angry, hurt or have their own experiences of injustice at the hands of police officers, I urge you to channel the energy peacefully as we prosecute this case."
6. Mosby recognizes this is not an indictment of all police.
"To the rank-and-file officers of the Baltimore city police department, please know that these accusations of these six officers are not an indictment on the entire force. I come from five generations of law enforcement. My father was an officer, my mother was an officer, several of my aunt and uncles, my recently departed and beloved grandfather was one of the founding members of the first black police organization in Massachusetts."
7. Still, she recognizes the police brutality problems in America.
"I strongly condemn anyone in law enforcement with access to trial evidence who has leaked information prior to the resolution of this case. You are only damaging our ability to conduct a fair and impartial process for all parties involved. I hope that as we move forward with this case everyone will respect due process and refrain from doing anything that will jeopardize our ability to seek justice."
8. She understands the importance of this decision.
"Accountability. You're getting it today." 
In seeking justice for Gray, Mosby must now walk a perilous line in American racial and judicial politics. With a family legacy steeped in enforcement officials, however, there are few more up to the task.
Mosby, herself a native of Boston, studied at the Tuskegee Institute in Alabama. Previously, she clerked for U.S. Attorney's offices in Washington and Boston and in the insurance industry. She secured the Baltimore state attorney job in an upset, ousting Bernstein after he had raised three times as much cash. Afterward, she faced only write-in opposition.
Mosby is reportedly the youngest state attorney of a major city in the U.S., but as her work has already shown, she's up to the task of bringing justice at a time when so many are echoing chants of "no justice, no peace."
Watch the full press conference below: