Marilyn Mosby Reveals the Simple Thing That Could Have Prevented Freddie Gray's Death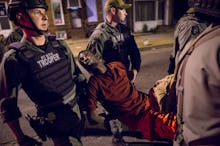 After she announced that the six officers involved in the detention and "homicide" of Freddie Gray would be charged with 28 counts in connection with his death, Maryland State's Attorney Marilyn J. Mosby made a quietly jarring declaration.
In addition to the alleged crimes carried out during Gray's deadly ride to a city booking center — where his body would emerge unresponsive, with devastating spinal cord injuries — three Baltimore officers had arrested the 25-year-old "illegally." They had no reasonable cause to detain Gray, Mosby said, and possession of the knife subsequently found in his pocket is legal in the state of Maryland.
"No crime was committed by Freddie Gray," the newly-elected state's attorney said. Officers Edward Nero and Garrett Miller and Lt. Brian Rice have been charged with false imprisonment. Their decision to pursue Gray, then drag him into that police van, though minor in the eyes of the law, set the stage for much darker transgressions.
All it took, as Mosby explained, was a flash of "eye contact" between the officers and Gray.
"Having made eye contact with Mr. Gray, Mr. Gray subsequently ran from Lt. Rice," she said. "Lt. Rice then dispatched over departmental radio that he was involved in a foot pursuit at which time bike patrol officers and Nero began to pursue Mr. Gray," who would eventually end up with "his arms handcuffed behind his back," begging for an inhaler.
"Officer Miller placed Mr. Gray in a restraining technique known as a leg lace," Mosby continued, "while Officer Nero physically held him down against him will while a BPD wagon arrived to transport Mr. Gray."
The most serious charge was filed against the driver of that vehicle, Officer Caesar R. Goodson Jr., who will be indicted for second-degree depraved heart murder. Mosby said Goodson repeatedly refused to get Gray medical attention, even as the 25-year-old told officers he was injured and "couldn't breathe."
Goodson now faces 30 years in prison for that alone, but he would have never had the opportunity to carry out this alleged — as defined by the charge — "murderous" and "anti-social" behavior had it not been for a seemingly benign decision by two of his colleagues. 
After the attorney made her prepared remarks, a reporter asked Mosby what could be done to prevent future incidents like the one that killed Gray.
Steely-eyed, Mosby responded: "Accountability. You're getting it today." 
Indeed, the slate of charges presented to the public Friday morning provide an abject lesson on accountability, or the lack thereof, among Baltimore police. Mosby's office didn't simply train its sights on the most apparently egregious behavior; they detailed the particular failure that made the rest possible — the simple act of arresting a young black man who had done nothing wrong.