Maryland State's Attorney Marilyn Mosby Became an Internet Hero in a Matter of Minutes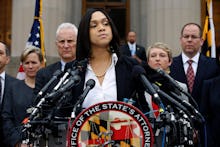 Maryland State's Attorney Marilyn J. Mosby surprised the nation Friday morning with her announcement that Freddie Gray's death was a homicide and criminal charges would be filed against the six police officers responsible. 
Gray was the 25-year-old black man detained by police in Baltimore who died of a spinal injury he incurred while in their custody. The city has been gripped by protests and riots over the past week, prompted by Gray's funeral on Saturday, with ensuing solidarity marches around the country.
As Mosby's first big test of her young tenure as Maryland's state's attorney, the press conference allowed her an opportunity to come out swinging and quickly establish her presence as someone who would not be messing around when it came to bringing justice for Gray.
It took only a matter of minutes for the Twittersphere to blow up, with endless tweets praising the prosecutor. 
Selma director Ava DuVernay said this about Mosby:
Actress and activist Mia Farrow even suggested Mosby may have the White House in her future:
The 35-year-old state's attorney has been in office for only four months, and many see this announcement as a clear sign that she intends to instill transparency and accountability in her office. While she comes from a family of police officers, "she has been vocal about holding cops accountable in the past," according to NBC.
"Let me tell you something, this woman does not play," Russell Barnes, the father of a rape and murder victim whose case Mosby has been handling, told Mic. "She'll do what she says she's gonna do. I just love her."
After three failed indictments on Phylicia Barnes' alleged killer, Mosby has been leading the appeal. "She called me and talked it through with me, to see if I wanted to keep fighting because it's so painful," said Barnes. "She's a transparent lady and her whole office is wonderful."
Like Barnes, many on social media quickly recognized Mosby's commitment to justice and took the opportunity to immediately sing her praises:
Mosby is one silver lining to come out of Baltimore's tragedy. She is shattering stereotypes and providing renewed hope in a justice system many Americans have lost faith in during this recent wave of racially biased police brutality.