Black Women Are Getting Killed by Police Too — So Why Aren't More People Discussing It?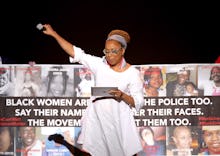 Paul Zimmerman/Getty Images
Most people know these names by now: Michael Brown, Eric Garner, Tamir Rice, Walter Scott and Freddie Gray. These are the names of five unarmed black men killed while in police custody, in a handful of high-profile cases that swept the media and the country by storm in the last year. 
Here's another set of names: Tanesha Anderson, Miriam Carey, Yvette Smith, Natasha McKenna and Rekia Boyd. They are five of the many unarmed black women who have also died at the hands of police. But their stories have been largely ignored in mainstream discussions, more than their male counterparts.
Days before Gray's death from a spinal injury incurred while in police custody set off a wave of riots and protests across Baltimore, a black transgender woman was gunned down by police. Her name was Mya Hall. All most media consumers know is that "two men" who were "dressed as women" crashed into a National Security Agency structure. Few know what happened to her, let alone her name, because her story didn't get the same media coverage or widespread outrage as Gray. The same could be said for many other women like her.
Police shot at Hall's car on March 30 in Fort Meade, Maryland, after she reportedly took a wrong turn and wound up near the Baltimore headquarters of the NSA. As the Daily Dot notes, police officers shot up the vehicle after Hall refused to completely stop the car, which was reportedly stolen. She died when the car crashed into the gates of the NSA. Her friend in the passenger seat was wounded.
In a jail not too far away in Fairfax County, Virginia, Natasha McKenna, an inmate, was tasered to death in February. The event was the result of officers' attempts to subdue her while she experienced a psychotic episode, according to the Washington Post. McKenna, who stood at 5 feet 3 inches and weighed 130 pounds, was reportedly diagnosed as having both schizophrenia and bipolar disorder.
Who endures police violence? In an interview with Mic, Kimberlé Crenshaw, executive director of the African American Policy Forum, said it's understandable why there's so much coverage of black men being killed by police, but the relative exclusion of women from this topic should be cause for concern. 
"Consider the fact that before each of the prominent cases of police homicide have occurred, there have been women killed and we don't know anything about what happened to them," she told Mic. "Their funerals aren't the site of activism, their mothers don't get invited to the State of the Union or the White House as a symbol of commitment to eliminating this problem. That element of erasure sends a message that these losses of life don't matter."
The standard frame for understanding police and state violence against black people has largely focused on black men, so the exclusion of black women remains prevalent, Crenshaw said. However, she noted, black people — especially black women — have historically been victimized in multiple ways.
"In fact, there's a far broader template of being endangered while black that includes black women," Crenshaw said. She cited domestic interventions, botched drug raids, mental health incidents, government-ordered evictions and sexual assault cases involving officers as a few other examples of incidents that take place when black women are subject to brutality or death via the police — incidents unrelated to driving or walking while black. This includes the cases of women such as Aura Rosser, Kathryn Johnston, Tanesha Anderson and Eleanor Bumpurs. 
Charlene Carruthers, national director of the Black Youth Project 100, told Mic, that at least two videos of black women being manhandled by police officers had spread in the past year. "We also must recognize other types of violence or else we miss parts of the population," she said. "When we look at how police and state violence affects black women, it includes black women and girls getting killed. It also includes black women and girls being sexually assaulted, harassed and beaten by officers as well." 
Where news cameras focus: President Barack Obama criticized the way media handled the situation in Baltimore, as there was little national attention focused on the inequalities of black people in the city before Gray's death led to mass outrage. "If we really wanted to solve the problem, we could," Obama said. "It would require everybody saying, 'This is important, this is significant,' and not just pay attention to these communities when a CVS burns or a young man gets shot or has his spine snapped."
Police officers continue to disproportionately stop black pedestrians or drivers, as a 2011 report from the Leadership Conference on Civil and Human Rights concluded. Driving or walking while black isn't the only way police violence takes shape for black people, especially black women. Black men are most affected by this trend, but they're not the only ones who are suffering. Yet so far, the only viral videos involving unarmed black people being killed by police have only shown black men and boys as victims — including Garner, Scott and Rice. 
Changing course: To elevate the narratives of black women, an ongoing "Say Her Name" campaign from the African American Policy Forum continues, while activists in the Black Lives Matter movement have used social media to raise awareness about black women victimized by police violence. Women in the movement have also called for May 21 as a national day of action for black women and girls. The date itself, Carruthers told Mic, coincides with actions in Chicago related to the recent ruling in Boyd's case, where an officer there was acquitted of killing the unarmed black woman. In the days leading up to the trial for Boyd's shooter, Chicago police officer Dante Servin, local activists pointed out to Progress Illinois that her situation mirrored the disproportionate pattern of violence waged against women of color. 
"Our sisters are often forgotten," Danielle Villarreal of Feminist Uprising to Resist Inequality and Exploitation, a Chicago activist group, told Progress Illinois, "and we want their names, stories and struggles highlighted."