Watch Saturday Night Live Brilliantly Skewer Police Racism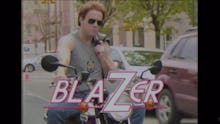 Justice has a new name: beating up black guys.
Saturday Night Live brilliantly tackled and condemned police violence against minorities Saturday night in a sketch featuring fake opening titles for a police procedural called Blazer. It rapidly becomes clear that the eponymous officer (Taran Killam) goes well out of his way to exclusively rough up black suspects.
From one tired trope to the next, Blazer marches between scenes, pausing only to tilt his glasses David Caruso-style and punch every black man he comes across — even those who aren't criminal suspects. It's a hilarious send-up both of police-drama cliches and the apparent swagger with which some officers seem to do their job these days.
It's a pretty dark joke, and one that gets successively more over the top as it goes on.
It seems like Blazer has brawled his way through every black guy in New York City. Considering he breaks into the home of a random black mailman (played by Keenan Thompson) and assaults him for no reason, perhaps he has.
But by the end, there's the perfect twist: This isn't a cop show intro at all.
"So, you see why I gotta fire you Blazer?" asks the police chief (Beck Bennett). 
"Cause I only beat up black guys?" Blazer says.
"Yeah, 'cause you only beat up black guys," the chief responds.
"'Cause my partner filmed everything with his body cam?" Blazer continues. "Also, 'cause I edited it all together and added music and put it up on YouTube?"
"Yeah," says the chief, who is in turn fired for tolerating Blazer's racist behavior.
If only dealing with police racism was that easy. This is one of SNL's funnier skits lately, and definitely worth a watch.