In One Quote, Rick Santorum Just Shocked Everyone with His Stance on Bruce Jenner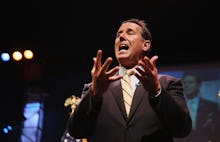 Former Pennsylvania senator and far-right social conservative Rick Santorum recently took a break from his busy schedule of schmoozing with anti-gay hate groups and threatening to bomb Iraq back to the "seventh century" to issue a curiously conciliatory statement on Bruce Jenner's gender identity.
Jenner, an Olympic gold medal winner, has come out as a trans woman and recently gave a high-profile interview to ABC's Diane Sawyer on the topic that ultimately drew a staggering TV audience of 16.9 million. Speaking to BuzzFeed News at a South Carolina GOP convention on Saturday, Santorum said that if Jenner believes "he's a woman, then he's a woman." (Jenner prefers to use male pronouns at present.)
"My responsibility as a human being is to love and accept everybody," Santorum told BuzzFeed. "Not to criticize people for who they are. I can criticize, and I do, for what people do, for their behavior. But as far as for who they are, you have to respect everybody, and these are obviously complex issues for businesses, for society, and I think we have to look at it in a way that is compassionate and respectful of everybody."
What it means: This isn't exactly a ringing endorsement of LGBT equality. While he claims to respect Jenner's trans identity, he left open the qualifier that perhaps he remains opposed to Jenner's trans "behavior" (whatever that means). The fact that Jenner also came out as a Republican might also have something to do with Santorum's flip.
But technically, anyone who has a problem with Jenner's gender identity is now far to the right of a guy who once compared gay sex to "man-on-child, man-on-dog" relations and thinks contraception is a "grievous moral wrong." Whether Santorum really has seen the light on this issue, is lying about his views or just knows that this is a battle Republicans can't win, it looks like one of social conservatism's angriest defenders has given up the idea that he can simply deny that trans people are the arbiters of their own gender identity.
Proceeding with caution: Santorum also clarified during the interview that he hasn't "gotten into the whole issue" of whether the federal government should protect trans peoples' right to use bathrooms without facing discrimination, suggesting that "businesses and local agencies" should handle it instead.
Since Santorum has persistently opposed same-sex marriage rights and promised to annul all gay marriages in 2012, these strangely conciliatory remarks remain just a blip on the radar in the candidate's otherwise bigoted agenda.
This strange turn of events ultimately made one thing clear: The vicious attacks on trans people that Santorum once waged on other members of the LGBT community are now officially too toxic for any Republican presidential contender to support. If this is an early indicator of which way the winds are blowing heading into 2016, candidates like Hillary Clinton who prominently feature LGBT people in their campaign materials are way ahead of the curve.
Update, 1:44 p.m. on 5/4/2015: Rick Santorum has released a statement on Facebook clarifying his position, reading in part "My comment affirmed Jenner as a person, made by God in His likeness as we all are. It was meant to express empathy not a change in public policy. #compassion"