Six Baltimore Officers Have Been Charged, But History Suggests They Won't Be Convicted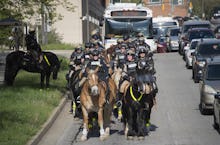 On Friday morning, Baltimore's chief prosecutor Marilyn Mosby announced that her office would bring charges against six police officers in connection with the arrest and subsequent death of Freddie Gray, which the Maryland medical examiner had deemed a homicide. 
The decision was met with relief and celebration by protesters, and defiance from Baltimore's Fraternal Order of Police, who asked that Mosby recuse herself from the case because of supposed conflicts of interest. There was a general sense of surprise among millions of Americans, including Gray's own family. After notable cases of alleged police brutality in Ferguson, Missouri, and New York City failed to yield a single indictment, Mosby's sweeping slate of 28 offenses reads like a much broader and bracing statement than a simple criminal complaint.
"It feels like the filing of charges is an historic thing," Sonia Kumar, an attorney with the ACLU, told the Baltimore Sun over the weekend. "But there is a shared understanding that this is just one moment. What happens next?"
The answer, according to historical trends and statistics, suggests that the officers will likely be acquitted or have at least a number of the charges against them dropped. A recent study from the Cato Institute showed how difficult it was for prosecutors to convict law enforcement officials accused of misconduct:
"Of ... 3,238 criminal cases against law enforcement officers in the US, only 1,063 officers were ultimately convicted of those charges or reduced charges associated with the original allegations. Of the law enforcement officers who were ultimately convicted, 36% were ultimately sentenced to spend any time incarcerated and the average length of incarceration for those sentenced to prison or jail was approximately 34.6 months." 
Fewer than a third of police officers charged were convicted. Only 36% of those convicted were actually sent to prison. By contrast, the report cited U.S. Bureau of Justice statistics showing "the conviction rate for members of the general public who were tried on criminal charges ranged around 68% from 2002 through 2006."
The Rekia Boyd case: On April 20, the day after Gray succumbed to the injuries he suffered in police custody, a judge in Chicago found a white police detective not guilty of involuntary manslaughter in the March 2012 shooting death of Rekia Boyd, a 22-year-old black woman. Off-duty at the time, Dante Servin fired five shots in the direction of a group of four people, later telling investigators he feared for his life after claiming to see one of them pull something from his waist.
Boyd was struck in the back of the head and killed. Her family settled a $4.5 million wrongful death suit with the city in March 2013. According to the Chicago Tribune, Servin was the first Chicago police officer to be tried in connection with a deadly shooting in nearly 20 years. Still, a conviction remained elusive. In explaining his decision, Judge Dennis Porter suggested that Servin had not acted "recklessly" because shooting a gun is, by nature, done with intent.
Hard to prove: While the logic that decided the Boyd case was odd, the result was typical. A report and analysis done by Bowling Green State University and the Washington Post found that just 11 of the 54 police officers charged in the fatal shootings of civilians since 2005 were convicted. Twenty-one were acquitted and 19 of the cases are still pending. None of the officers, regardless of the court's decision, were sentenced to more than 10 years in prison. In all 11 cases where the officer was found guilty, the victim had been unarmed. 
Even when there is full or partial video evidence against an officer, convictions are difficult to come by. This is due in large part to the fact that prosecutors must contend with a Supreme Court decision —  Graham v. Connor, from 1989 — which states that a police officer can justify the use of deadly force if he feels that his life is in danger. 
"The threat does not need to be real," Dr. Cedrick Heraux, an assistant professor at Adrian College's Department of Sociology and Criminal Justice, explained to Mic last year. "The sole requirement is that the officer demonstrate — how? Usually by saying so — he feared for his own safety."
Both Servin in Chicago and former Ferguson officer Darren Wilson, who killed unarmed teen Michael Brown last August, told the court they perceived a mortal threat.
Long road ahead: Whether the officers charged in Baltimore will claim to have been in fear for their lives is an open question. The facts of the case, including an initial police report saying Gray was taken into custody "without force or incident," suggest this will be a difficult argument to make. But as we saw in the Michael Brown case, officer testimony can be very powerful, even when it seems to defy logic. 
Mosby, whose parents and a number of uncles worked as police officers, knows the game. By charging six officers, she gives herself the option of trading plea deals on lesser counts in exchange for testimony by officers against their colleagues on the state's behalf. 
On Saturday, the first court date for the six accused officers was set for May 27. A trial is not expected to begin for months. There is, for the prosecutor, protesters and the family of Freddie Gray, still a long road to travel before something like justice is served.
Correction: May 8, 2015