Miguel's Seductive New Song Proves He's the R&B Singer Our Generation Needs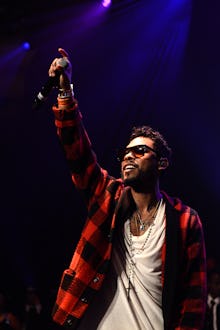 On Sunday, Grammy-winning R&B phenom Miguel released the single "Coffee (F***ing)," a reworked version of his previously released track, "Coffee." The singer teamed up with Wale to create a steamy groove that sounds like the future of R&B. 
"Coffee (F***ing)" is the latest release in advance of Miguel's long-awaited third studio album, tentatively called Wild Heart, Vibe reports. Miguel hasn't always gotten the credit he deserves. His first album, All I Want Is You, was a flop recorded under Jive Records; as the label crumbled, his album remained on the shelf for two years and was released to little fanfare. But the singer rebounded in a big way with 2012's Kaleidoscope Dream. That album made a huge splash with fans and critics, cementing Miguel's status as a major R&B player. 
Miguel has lent his vocals to a number of songs since his last album was released, including Janelle Monae's "PrimeTime" and J. Cole's "Power Trip." And "Coffee (F***ing)" isn't the first time that Miguel and Wale have worked together; the two collaborated on the Grammy-nominated track, "Lotus Flower Bomb" in 2011. 
Miguel's new album, Wild Heart, is almost complete, RCA Records' Mark Pitts told Billboard in February.
"We're 90 percent done," Pitts said. "He's more confident, and it's going to show in the music, his look and in the videos. Miguel is ready to push the button. His first album was about trials and tribulations. The second was OK, we're here; I wasn't bugging. And now it's here we go."